According to Beyonce, women run the world. And while women have made great strides in so many ways, and broken into so many areas that were previously closed off to them, we might not go quite that far yet. But with that being said, when it comes to the world of small business, women are actually kind of crushing it, and have been for a while, although the last few years have meant a lot of major setbacks. So what does the landscape look like for women in the small business world right now, and what kind of help is available to allow women to continue to run things? 
Women in Small Business by the Numbers
Women entrepreneurs have come a long way since the days of nineteenth-century women like Rebecca Pennock Lukens, who became "America's first female CEO of an industrial company," and former slave Bridget 'Bidy' Mason, who built a West Coast real-estate empire. Those impressive women were outliers in the country at the time, and while there can still be obstacles standing in the way of getting ahead these days, things are looking up, with a few Covid-related caveats (which we'll look at below). Check out these numbers: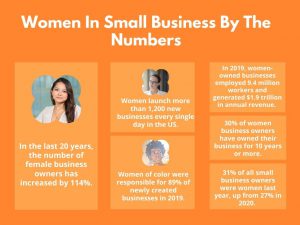 In the last 20 years, the number of female business owners has increased by 114%.

According to 2019 numbers from the National Women's Business Council, that year, women owned nearly 13 million businesses in the United States (around 42% of all companies). Compare that to 1972, when there were only 402,000 women-owned businesses, representing 4.6% of all firms.

In 2019, women-owned businesses employed 9.4 million workers and generated $1.9 trillion in annual revenue. 

According to a 2021 survey by Small Business Trends, 31% of all small business or franchise owners were women last year, up from 27% in 2020. 

Women launch more than 1,200 new businesses every single day in the US.

The growth rate of women-owned businesses is 5%.

In 2018, women owned 4 out of every 10 businesses in the U.S.

In 2017, 1,821 net new women-owned businesses were launched every day. Women of color founded 64% of those new businesses.

From 2007 – 2018, total employment by women-owned businesses rose 21%, while employment for all businesses declined by 0.8%. 

In 2018, women of color accounted for 47% of all women-owned businesses, employed 2.2 million people, and generated $386.6 billion in revenues.

Businesses owned by women of color grew by 163% between 2007 and 2018.

Women of color

were responsible for 89% of newly created businesses in 2019.

The number of businesses owned by Latinx women has grown by 172% in the last 10 years.

30% of women business owners have owned their business for 10 years or more

Women are slightly more likely to start a business than men, according to the SCORE report.
Turns out, these days, women are running a lot. But that's not to say there aren't challenges. Let's look at two: the pandemic and funding.
Has the Pandemic Derailed Progress?
The last few years have been tough on everyone, but the pandemic seems to have hit women business owners particularly hard, probably because of the multiple roles women are expected to fulfill, even while running a business.
According to data from Goldman Sachs, almost half of all women business owners, and nearly 60% of African American women small business owners, continue to struggle financially due to the pandemic. A smaller share of men owners (39%) said this. Not only that, but: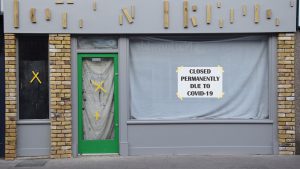 At the start of the COVID-19 pandemic, from February to April 2020, the number of female-owned businesses dropped 25%. 

21% of women-owned businesses experienced revenue loss due to Covid. 

Goldman Sachs also found that around 4 in 10 female small business owners are worried the debt they've accumulated will hurt their ability to recover – and even more African American owners have this concern.

Bank of America's 2021 Women Business Owner Spotlight found that around half of women entrepreneurs cut their own pay to keep staff members employed during the pandemic.

More than half of African American women small business owners said they'll need to take out a business loan this year; only 27% of their male peers said the same.

 7 in 10 women business owners under 45 said they or their employees have been plagued by

mental health issues

during the pandemic.
But even with all of this bad news, women business owners are optimistic. Despite the challenges they've faced in the last few years, a full 77% of women business owners expect their business to survive through the COVID-19 pandemic, and 61% expect their revenues to grow over the next year, compared to 31% last year. Not only that, but 76% of women business owners report being somewhat or very happy, while just 14% report being very or somewhat unhappy.
So women entrepreneurs are continuing, and will continue to triumph, despite the challenges thrown at them. But there is still another issue to look at: the disparities in funding for women's small businesses. Fortunately, there is some help in that department that women can take advantage of. 
Where Women Entrepreneurs Can Get Help
What does the landscape of funding for women's small businesses look like now? Well, it's complicated. While studies show that female-owned businesses are safer for investors, that businesses founded by women earn twice as much money as those founded by men, they have better loan repayment records, and they are less likely to declare bankruptcy than men, female entrepreneurs usually face greater difficulties when it comes to obtaining funds for their businesses, and are submitted to more scrutiny than their male counterparts. According to Sharon Miller, the President of Small Business at Bank of America, "Women think they have to have it perfectly right before they go to the bank. Many men come in without even having a concept."
And consider this: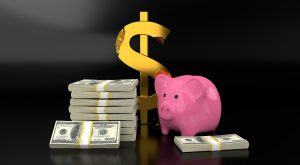 Women receive an average loan of $39,000, while men receive an average loan of $44,000.

Only 25% of women seek financing for their businesses. In contrast, 34% of men look for financing from investors. 

Women who do seek funding are successful in 31% of cases, while 34% of men who applied for a loan said that their funding request was approved. 

Groupon reports that 54% of women entrepreneurs say they're held to a different standard than their male counterparts when accessing capital. 

Research from the Kauffman Foundation shows women-owned startups pay higher interest rates and take on more collateral than similar businesses owned by men.

Of the $130 billion venture capital funds invested last year, companies with a female CEO got less than 3% of the funding. And less than 0.2% of all VC funding went to women of color.
But since around 47% of women small business owners now have less than three months' cash reserves, having access to capital might just be a make or break thing. Without equal access to capital, women business owners do not have equal opportunities to grow, innovate, or scale, limiting their ability to succeed.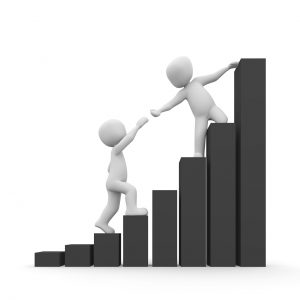 Fortunately, if you are a woman entrepreneur, there are avenues open to you to help you move forward. First of all, you need to be creative and, as Lakshmi Balachandra, Ph.D., assistant professor, entrepreneurship at Babson College, says "turn the challenges into opportunities." She recommends networking, seeking out a mentor (and being a mentor in return), buying from women-owned businesses – and, of course, exploring all of your options for capital. 
There are various alternatives open to you for funding your business, including:
VC firms led by women or with a solid record of investing in women-owned businesses, like

37 Angels, Belle Capital

, and the

Women's Venture Fund

. There are also organizations that help connect women with investors, like

Astia

and

Women's Capital Connection

.

In partnership with Seneca Women, Bank of America has launched the

Bank of America Access to Capital Directory

, a platform that helps educate women-owned businesses to "navigate the capital landscape and identify potential sources of funding, such as equity, debt, and grant capital." 

The government's

Small Business Association

offers the

8(a) Business Development

program that helps small, disadvantaged businesses compete in the marketplace, as well as a

Lender Match

tool for finding capital. The SBA also hosts  the

InnovateHER Challenge

every year. Any woman-owned business that offers a product or service that has an impact on the lives of women and their families may be eligible to participate in this challenge.

Government-backed

Women's Business Centers

offer training to help bridge the funding gap in multiple locations around the country.

WomenOwned

is a database that allows women to have access to thousands of grants and assistance programs. These grants are all woman-owned and minority-owned small business funding options.

The

Count-Me-In/Make Mine a Million

organization offers a variety of events and grants for woman-owned businesses that are trying to expand their business to over one million dollars in revenue. 

KeyBank offers the

Key4Women

program, which aims to provide women entrepreneurs with capital and financial assistance. Since 2005, KeyBank has lent more than $6 billion with this initiative to woman-owned businesses.

Wells Fargo

is actually one of the leading lenders for woman-owned businesses. They offer multiple financial solutions designed to support woman-owned businesses, whether they are well-established and looking to grow or just starting out. They also offer lines of credit for woman business owners.

The

Women's Economic Ventures Loan Program

, established in 1995, works to help woman-owned businesses that do not qualify for traditional bank financing. They offer a variety of different funding options with a fixed rate of 5-10%.
The above resources are just some of the places that are helping to fill the funding gap, and that  women entrepreneurs can turn to for assistance. There are many more, including various small business loans and grants, as well as organizations that cater to specific regions. 
Women have made an enormous impact on the world of small business, despite historical obstacles and disparities in funding. Woman-owned businesses have a high success rate and tend to be a low risk for investors, so it's time lenders caught up with the times and backed these businesses. Otherwise, they'll be the ones left behind as women continue to move towards running the small business world.