Boo! It's that time of year again, when store shelves are stacked with delicious chocolate and sugary candy, staring you right in the face every time you walk through the doors. You've been good all year, and have avoided the candy section, but there's no escaping it now, since every section seems to be the candy section these days. Halloween is synonymous with binging on candy, chocolate, and other goodies, but we have some solutions for keeping the cravings and temptations at bay. Whether you're the trick-or-treater or the candy giver, make smarter choices this Halloween with these helpful hints.
Halloween Candy Facts
Before we talk about how to make healthier choices during the Halloween season, here are some staggering facts about the holiday we've become sweet on: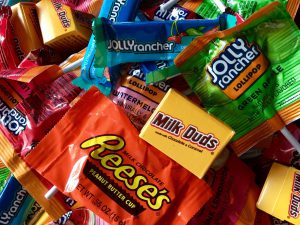 The average American child eats between 3,500 and 7,000 calories worth of Halloween candy.

According to the American Chemical Society, a 180-pound person would be poisoned if they consumed 262 fun-sized candy bars.

Children would have to play for two days straight to burn off the calories in the average amount of candy collected on Halloween.

Americans purchase nearly 600 million pounds of candy each year for Halloween. 3.3 million of those pounds are Skittles and 3 million are Reese's Peanut Butter Cups.

Candy corn is the least healthy Halloween candy. Just 15 small pieces have 110 calories and 22 grams of sugar.
Scary, right? While some amount of indulging is of course OK occasionally, going overboard is never a good idea. So how can you healthy-up this sugarfest fright night in a realistic way?
Healthier Halloween
You don't want to be "that" house in the neighborhood that hands out toothbrushes. And you also don't want to find an apple in your basket after a long night of trick-or-treating. So what can you hand out if you're trying to stay away from unhealthy candy? And what treats can you keep an eye out for while you're sifting through your haul?
Sugar-free gum is a great option.

A lot of kids see gum as a novelty; it's also not a very common Halloween handout, so this might be a welcome treat.

Balloons can really blow up your Halloween festivities. If your neighborhood goes all out and makes Halloween a community event, consider setting up a balloon station and handing out balloons. You can get a helium tank from a party store and hand out balloons to passersby. Your house could become the most popular stop in town!
Glow sticks can light up kids' night.

Chances are the sun will be down while kids are trick-or-treating, so they can use glow sticks to be more visible while walking around, making them both fun and practical.

Go with something savory.

Halloween-themed snack packs are  festive, healthier alternatives to candy. Everyday snacks, such as Cheez-Its or Pirate's Booty, get a fun Halloween makeover every October, making them a great option for your giveaway.

Downsize!

Choose fun-sized, miniature candy bars. You can still get a taste of the good stuff, but with a fraction of the calories and sugar. 
If you're in charge of purchasing treats to hand out for Halloween, know that you have options that won't make the little ones groan. You'll be keeping the fun in Halloween, while teaching little ones about moderation and healthy choices. All you need to do is think outside the box, and you can find a unique, fun, healthier alternative to traditional candy to hand out this year!