If you're looking for a life insurance policy, but have pre-existing medical conditions, you might be worried about undergoing a medical exam to get coverage: your medical status could mean that you will have to pay more, or you could even get denied for a policy altogether. Fortunately, though, even if you have health conditions, you have options! There are four types of life insurance policies that do not require medical exams, meaning you'll still be able to provide financial protection to your family no matter your age or health history. Comparing these different policies will help you better determine which no medical exam life insurance policy is best for your family's needs.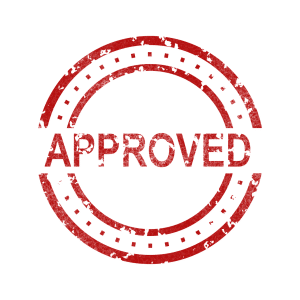 The first type of life insurance that does not require a medical exam is guaranteed issue life insurance. With one of these policies, you will not be rejected for any health-related reason; you will simply need to answer a few questions about your health to determine your policy rate, and then you can receive coverage in as little as a day. The death benefit for this policy can be anywhere from $5,000 to $25,000. 
The drawback to guaranteed issue life insurance? Premiums will be higher than those of other life insurance policies; your insurance company will not have very much information about your health status, so they will be taking on a higher risk by insuring you. In addition, before your family can receive the policy's death benefit, there is a 2 year waiting period, which means if you pass away during the first 2 years that your policy is active, your beneficiary will only receive a portion of the death benefit. This plan is best for those who are looking for quick, easy coverage for their family. 
This is a type of term life insurance that has been increasing in popularity over the last few years. These policies last for a certain time period (or term) –  usually 10, 20, or 30 years, and are a step up from guaranteed issue life policies; they are more expensive than traditional life insurance policies, but cheaper than guaranteed issue policies, but coverage is often limited. When you apply for simplified issue life insurance, you will be asked detailed medical questions and will undergo a background check, but you will not have to undergo a medical exam. 
These policies offer coverage anywhere from $25,000 to $200,000, depending on the results of your evaluation. Simplified issue life insurance is best if you are looking for convenience, quick approval, and coverage if you have moderate health issues. 
3. Graded Death Benefit Life Insurance
This kind of insurance is similar to guaranteed issue life insurance, with some slight differences. You will have to answer some health questions, with the number of questions depending on the insurance carrier; because there might be more health-related questions, these policies are slightly less expensive than guaranteed issue life insurance. These policies offer coverage up to $50,000.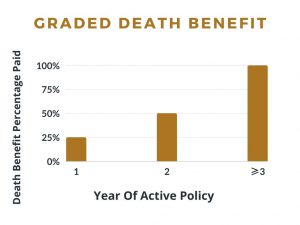 One of the major differences between graded death benefit policies and other types of policies is that the death benefits are paid out in percentages; after each year of having an active policy, your beneficiary will receive a higher portion of your death benefit:
Death in year 1- 25% of death benefit paid

Death in year 2- 50% of death benefit paid

Death in year 3 or above- 100% of the death benefit paid. 
This kind of policy is also known as burial insurance; coverage is designed to cover end-of-life expenses, including burial costs, funeral ceremony costs, final medical bills, and any small debts. Even if you don't have any other type of life insurance, you should consider having this policy: the average cost of a funeral is around $10,000, which is a lot of money for your family to come up with, especially if they are not prepared. 
Final expense policies offer coverage from as low as $2,000 up to $50,000. The great thing about these policies is that your premiums will not increase, and your death benefit will remain the same throughout your life. This policy is a good choice for people who have some health issues and need a smaller amount of coverage to help with costs related to their passing. 
There are options for life insurance that allow you to get a policy without having to undergo a medical exam – this means that, no matter what health conditions you have, you will still be able to get life insurance coverage. If you're interested in one of the policies above, and you need help deciding on a policy, consider using online tools to see what is available, as well as working with an agent who will help you compare plans and see which is the right fit for you. To get you started, we have provided the top insurance companies that offer life insurance policies below; each can give you hassle-free assistance and the most competitive rates in the nation. Always check multiple sites to make sure you have bargaining power and know the advantages of each company. Make sure a hard time isn't made harder by a financial burden, check life insurance rates today.