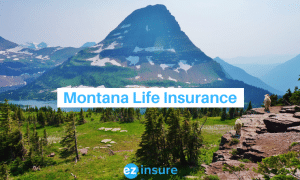 If you're looking to protect your family's financial future, a life insurance policy is a must. But finding the right one for you can feel tough. If you've been searching for a policy, you know there's a lot to learn about. Including all of the many types of policies available in Montana and the many rules and regulations surrounding life insurance. You'll need to learn as much as possible about the life insurance market in Montana before you buy a policy here. But don't stress: EZ is here to help. First, read our comprehensive guide below, then speak to an EZ agent about finding the perfect policy for you. 
Jump To:
How Life Insurance Works in Montana
Simply put, life insurance is a contract between you and your chosen insurance company. You agree to pay the insurance provider a set amount of money on a regular basis (known as the premium). In exchange your beneficiaries receive a lump-sum payout when you pass. Your beneficiaries will be able to use the money however they choose. Like paying their mortgage, saving for retirement, or simply replacing your income.
Those who have dependents, who are responsible for another person's care financially, or who have debts that will have to be settled after death can all benefit from purchasing life insurance. It's especially important if you are the sole breadwinner in your family. Life insurance can help ensure that they are taken care of financially in the event of your passing. 
Types of Life Insurance Available in Montana
There is a wide variety of types of life insurance policies available in Montana. Making it possible for you to find one that works for you. But to find the right policy for you, you'll have to make some decisions about what you're looking for. First, you'll have to decide between the two main types of policies:
Term life insurance
Permanent life insurance 
Your decision will depend heavily on your specific needs. Including whether you want a policy for the short-term or the long-term. You'll also need to think about how much you're willing to spend. As well as what features you'd like your policy to include. 
Term life insurance is generally more popular than permanent life insurance because it tends to be cheaper. Its premiums are usually very affordable, because with term insurance, your policy will not cover you indefinitely. Instead, you choose how long you want coverage for. With most policies having terms of 10, 15, 20, 25, or 30 years. 
These policies are also fairly straightforward. Your premium will stay the same for the entire term of your policy. If you die during the policy's term, your beneficiaries will receive a tax-free, lump-sum death benefit. 
There are several types of term life policies available, including:
Level Term Life Insurance
With level term life insurance, both the death benefit and the premiums are set at the time the policy is bought. Meaning they do not change at any time during the policy's term. Level term life insurance is the most common and popular type of term life insurance. 
Annual Renewable Term Life Insurance
Annual renewable life insurance is a type of term life insurance that lasts for one year. You can renew your membership every year, but the cost will go up as you get older.
Increasing Term Life Insurance
Your increasing term life insurance policy will give you a death benefit that will get more valuable over time. This will happen at regular intervals. For example, your benefit amount might go up by 5% every year. Increasing term life insurance costs more than other types of term life. There's also a chance that the premiums of this type of policy will change over time.
Decreasing Term Life Insurance
A decreasing term life insurance policy has a death benefit that decreases over the policy's coverage period. While the premium stays the same. With decreasing term life insurance, the coverage usually lasts for the length of a loan, like a mortgage. But the benefit amount slowly goes down as the loan balance is paid off.
Return-of-Premium Life Insurance
Return-of-premium (ROP) insurance is a type of term life insurance that gives you back your payments if you don't die before your coverage ends. While the return of premiums is an attractive feature, ROP policies are much more expensive than other types of term life insurance.
Permanent Life Insurance
Permanent life insurance differs from term life in a few big ways. First, if you purchase permanent life, your policy will remain in effect for the entirety of your life, provided that you continue to pay the premiums. Next, you'll get what's known as cash value, or a type of savings account that accrues interest. You'll be able to use this cash value to borrow against, or even to pay your premiums. Finally, because of all of these extra features, permanent life is more costly than the term life option. 
There are several types of permanent life insurance policies available, including:
The death benefit of a whole life insurance policy is guaranteed to remain the same as long as you maintain the policy. Whole life insurance not only pays out a benefit to your beneficiaries when you die. It also has a savings feature that builds up cash value. This cash value will earn interest at a set rate and will not be taxed.
There are more choices with universal life insurance. You can change both the amount of your premiums and the amount of your death benefit. The premiums for UL policies cover both the cost of insurance (also called the COI) and a savings component (also called the cash value). Eventually, you will be able to use the cash value to cover your COI, thus lowering your premiums. You will also be able to lower your premiums by lowering the amount of your death benefit.
Indexed Universal Life Insurance
Indexed universal life (IUL) insurance is a sort of permanent life insurance with a cash value that can grow based on investment in a stock index. Which is a predetermined grouping of different stocks. IUL gives you the same flexibility as universal life to change your premium as your cash value grows. It also has the potential to become a zero-cost policy where all of your premiums are paid for by the cash value you have accumulated. 
Variable Universal Life Insurance
Variable universal life (VUL) is another type of permanent life insurance policy that has a built-in savings feature and allows the cash value to be invested. But variable universal life insurance comes with investment subaccounts that can be used to put the cash value to work. The way the sub-accounts work is similar to how a mutual fund works. And just like with standard universal life insurance, the premiums can be changed. 
Final expense insurance is a type of whole life insurance that is easy to get and gives a small payout, usually between $2,000 and $35,000. It is also called funeral insurance, burial insurance, simplified issue whole life insurance, and modified whole life insurance, among other names. The death benefit of final expense insurance is meant to pay for things like a funeral or memorial service, embalming, a casket, or cremation. Beneficiaries, though, can use the money from the death benefit for anything they want, like a vacation or paying the taxes on their beneficiary's property.
As noted, these policies are easy to get, but they don't pay out very much, so they tend to be good options in certain situations. For example, final expense life might work for you if you need a policy quickly and are worried about not qualifying for traditional life insurance. Or, it can be useful as a supplemental policy. With that being said, final expense life insurance can be a bit expensive when compared to other small policies.
Montana Life Insurance Laws
When it comes to life insurance, the federal government generally leaves consumer protection and insurance industry regulation up to the individual states. So that means life insurance policies in Montana must comply with state law. While Title 33 of the Montana Code serves as the backbone of insurance regulation in the state. However, other consumer protection laws have also been enacted. The state's insurance industry is regulated by the Office of the Commissioner of Securities and Insurance.
These regulations and regulatory bodies ensure that you will have the following rights and protections when you buy life insurance in Montana:
Free Look Period
While many other states mandate that insurance companies allow new policyholders to "test drive" their insurance plans for a predetermined period of time before committing to them (known as a free look period). Montana does not mandate this. Most Montana life insurers, however, still give new policyholders anywhere from seven to thirty days to change their minds and get their money back in full. Speak to your chosen insurance company to find out how this free-look period is handled by them. 
Grace Period
All policyholders with a life insurance policy issued in Montana are entitled to a 30-day grace period if they miss a payment. This means that if you are late paying your premium, you will have 30 days to bring your account up-to-date before your policy can be terminated. In addition, if you pass away during your 30-day grace period, your insurance company will still be required to pay out your policy's death benefit to your beneficiaries.
Benefit Guarantee
The Montana Life and Health Insurance Guaranty Association will stand behind your policy if your insurance provider goes out of business. Your policy's death benefit is insured by the association for up to $300,000, and your cash benefit is insured by the association for up to $100,000. For your policy to be covered, your insurance provider must be authorized to do business in Montana, and you must be current on premium payments.
Settlement Timelines
In the state of Montana, insurers have 30 days to honor a claim for life insurance benefits after the insurer has been given notice of the claim. If the insurer does not make the payment in a timely manner, the death benefit will accrue interest, and the insurer will be subject to a fine.
The Cost
Factors such as your age, health, and even gender can all affect the cost of your life insurance premiums. Contact one of our EZ agents for the quickest and most accurate quotes on policies that are right for you. But to give you an idea of what life insurance premiums look like, a healthy 32-year-old man who does not smoke could pay anywhere from $18 to $37 per month for a $710,000 policy with a 20-year term in Montana. 
Montana Life Insurance Resources
In Montana there are several resources in place to help you if you have any problems with your insurer or policy. These resources include:
Commissioner of Securities and Insurance

– The Commissioner of Securities and Insurance is a state agency that looks out for the interests of consumers. It is responsible for the regulation of the insurance industry, as well as the prosecution of businesses that violate state laws and regulations. You can file complaints with this agency if you have an issue with an insurer. 

Montana Life & Disability Insurance Guaranty Association

– In order to legally sell policies in Montana, every life insurance company is required to become a member of this association. In the event that a member company experiences financial difficulties, the association will protect your interests and make certain that you will continue to be paid for any claims that you file, up to the limits that have been established.
FAQs
Does Montana require life insurance?
No, you will never be forced to get life insurance. It is always your choice.
What are the best life insurance companies in Montana?
In Montana, there are many good ways to get life insurance. Guardian Life, Nationwide, New York Life, Pacific Life, and Lincoln Financial are at the top of the list.
How much does life insurance cost in Montana?
There are many things that can change how much life insurance costs, but here's an example. A healthy 32-year-old woman in Montana will pay an average of $29.74 per month for a 20-year term policy that costs $710,000 and lasts for 20 years. On the other hand, a healthy 32-year-old man will pay about $21.48 for the same policy.
EZ Can Help!
We at EZ understand that you are trying to find the best possible life insurance policy for you and your loved ones without having to empty your savings account. But we also know that this takes time and effort and can be frustrating. So, we do our best to make buying life insurance as uncomplicated as possible for you. We also offer every single one of our services at no cost to you. You won't have to pay anything extra to receive assistance with anything. From getting answers to your most fundamental questions to navigating policy selection to the enrollment process and beyond. To get started, simply provide your zip code in the space provided below or give us a call at the number 877-670-3560.
Looking For A Different Type Of Insurance In Montana?