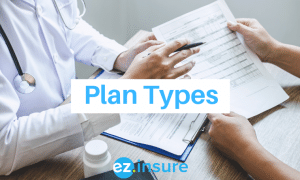 You have options when choosing a health insurance plan, whether you're looking for insurance for yourself and your family or are the owner of a small business looking to cover yourself and your employees. You can choose the health insurance plan that best suits your coverage needs and financial situation by knowing what types of health insurance plans are available to you.
Jump To:
Health Insurance Plan Categories
When you purchase health insurance through the federal or state Marketplace, a private exchange, or a brokerage, you will find that the plan types available are separated into four metal tiers: Bronze, Silver, Gold, and Platinum.
These plan types all comply with the Affordable Care Act (or ACA, often referred to as Obamacare) and cover the 10 essential health benefit categories. Additionally, they also have a maximum out-of-pocket expense cap. The out-of-pocket maximum for a Marketplace plan for the 2023 plan year is $9,100 for individuals and $18,200 for families.
The metal tiers do not refer to the quality of care you will receive with one of these plans, but to the portion of your medical care that each tier will cover:
A Bronze plan will cover 60% of costs; you will pay 40%

A Silver plan will cover 70% of costs; you will pay 30%

A Gold plan will cover 80% of costs; you will pay 20%

A Platinum plan will cover 90% of costs; you will pay 10%
The premium you pay is based on which plan tier you choose. The more a plan covers, the higher the premium will be, but the lower your out-of-pocket expenses will be.
Main Health Insurance Plan Types
While looking for the right health insurance plan for you, you'll come across what seems like an alphabet soup of choices, like HMOs, PPOs, EPOs, HRAs, and POS plans. These plans all have slightly different features, and the type you choose will affect your out-of-pocket expenses and your options for providers.
HMOs provide you with a local network of participating physicians, hospitals, and other healthcare providers and facilities from which you can select. You must select a primary care physician (PCP) from this network as part of these health insurance policies. Your PCP serves as your primary point of care: they will get to know you and aid in organizing all of your medical care. They are also in charge of giving you a referral to see any specialist; without this referral your HMO will not cover a specialist visit. As long as you remain in-network, the out-of-pocket costs of an HMO plan are often cheaper than those of other types of health plans.
PPOs have very large networks of participating providers, giving you a wide selection of hospitals, clinics, and other healthcare facilities and specialists to choose from. Unlike HMOs, PPOs do offer some coverage for providers outside of their network, but they won't cover as much of the bill as they would with an in-network provider. Two other key differences between PPOs and HMOs are that you are not required to select a PCP, and you can see a specialist without a referral.
Exclusive Provider Organization (EPO)
EPOs also give you access to a network of participating providers from which to pick. With the exception of emergencies, the majority of EPO plans do not cover care received outside of their network. As a result, you will probably be responsible for covering the whole cost of services if you go to a provider or facility that is not part of the plan's local network.
Depending on the plan, you may or may not be required to choose a PCP. Either way, you will not need a referral from a PCP to see a specialist, as long as they are within the plan's network.
Point Of Service (POS)
POS plans combine the features of PPOs and HMOs. Similar to a HMO, the provider network for a POS is often smaller than that of a PPO plan, and in-network care expenses are typically lower, like with a PPO. You must select a primary care provider (PCP) from among the network of physicians and other primary care specialists in POS plans.
With a POS, you must get a referral if you need to see a specialist. However, just like with PPO, you have the option of seeing in-network or out-of-network specialists. Your share of the costs will be higher if you see an out-of-network provider, though, and you will be responsible for submitting any claims if you visit a physician who is not in the plan's network.
An HRA, or health reimbursement arrangement, is a type of health spending account that an employer provides and owns. Your employer is the only one who can contribute to the HRA since they own it. They can also decide whether you can carry over unused funds to the following year. The funds in it are used to cover qualified expenses such as medical, pharmacy, dental, and vision care, as determined by the employer.
Alternative Plan Types 
In addition to the above types of plans, there are other types of insurance plans available. These types have more specific or strict requirements and guidelines. And some are not regulated by the Affordable Care Act (ACA). This means that they are not required to offer certain benefits or premium rates. Others are more like investment accounts that you can use alongside other plans.
High Deductible Health Plan (HDHP)
High deductible health plans (HDHPs) cross categories. They can be EPO, HMO, or PPO plans. But the one thing they have in common is that they have high deductibles. This means that before your health insurance coverage kicks in, you'll need to meet a high deductible. Which is usually more than $1,400 dollars for the year. People who want to save money with low monthly premiums and don't intend to utilize their medical coverage frequently may be good candidates for these plans.
Health savings accounts (HSA) are a type of savings account that allows you to put money aside pre-tax for eligible medical costs. Also like a savings account, the money in these accounts accrues tax-free interest. You can reduce your overall healthcare costs by using tax-free funds from a HSA to pay for deductibles, copayments, coinsurance, and some other expenses. In general, HSA funds cannot be used to cover premium costs. HSAs and HDHP are often used in tandem because you cannot contribute to an HSA without having a HDHP. 
Supplemental insurance plans were created to provide an emergency safety net for unforeseen medical expenses or other costs in the event of a medical emergency. It is useful if you don't have a major medical policy and find yourself in a medical crisis. You can also purchase supplemental insurance as a supplement to your major medical or short-term insurance as extra security.
How To Choose Between Plan Types 
When you are choosing health insurance, you should compare the different features of the plans to decide what works best for you.
Compare Plan Networks
Your in-network providers are the medical facilities and providers with whom your health plan has partnered to provide your care. Because insurance companies negotiate lower rates with in-network doctors, costs are lower when you visit an in-network physician. Out-of-network doctors don't have the same agreed-upon set fees. This means you're usually responsible for a larger amount of the bill when you visit them.
It's generally a good idea to go for a plan with a big network if you don't have a preferred doctor.  This way you have more options. If you reside in a rural area, having a broader network will be especially beneficial. Because it will increase your chances of finding a local physician who accepts your insurance. If you have a preferred provider, make sure they are listed in the provider directory for the plan you are considering. You can also ask your doctor directly if they accept a health insurance plan that you're interested in.
Compare Out-Of-Pocket Costs of the Plan Types
Another factor to consider is out-of-pocket costs. The amount you'll have to pay out-of-pocket for services should be made very clear in the summary of benefits for the plan. Your out-of-pocket costs will include your:
Copay

– Every time you receive a medical service or undergo a procedure, such as a doctor's appointment or surgery, you must pay this set fee. Each plan will have a different copay, and some don't have them at all.

Coinsurance

– This is the portion of a medical bill that you are responsible for paying; your health insurance policy will cover the remainder.

Deductible

– This is the amount you pay for medical services before your insurance starts to pay. The deductible renews each year. The lower your deductible, the quicker your insurance will start to cover your medical expenses.

Out-of-pocket maximum

– This is the maximum amount of money you will have to pay out-of-pocket for medical expenses in a year. When you've reached this maximum, your insurance will pay the rest of your medical bills for the year.

Premium

– This is the monthly fee you pay to maintain your health insurance coverage.
Your out-of-pocket costs will vary greatly depending on which plan and metal tier you choose. Generally, the higher your premium, the more you save on out-of-pocket costs.
Compare Benefits of the Plan Types
Examine the range of services offered by each plan. Refer to the summary of benefits to see which plans offer a greater variety of services. Some may have better emergency coverage. While others may have better coverage for things like physical therapy, reproductive treatments, or mental health care. Keep in mind your specific health needs and make sure the coverage you choose includes those needs.
The Bottom Line
There are a large variety of health insurance plan types available to choose from. So, it all comes down to you: your needs, your budget, and your health. The best thing you can do when searching for the right plan for you is research the features of all plans. So, you can get the most coverage for the least amount of money. Remember, health insurance is an important part of life even if you're generally healthy.  You never know what can happen – and it's better safe than sorry. To get started, simply put your zip code into the box below or give one our licensed agents a call at 877-670-3557.