Life insurance is one of those things that you know is a good idea but is also easy to forget about or put on the back burner. Having a policy is a necessity, though, for everyone from those who are just starting out in life to retirees – it's just that your needs are different. But exactly which group or life stage needs it the most?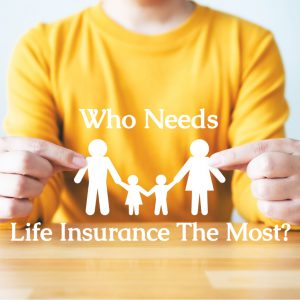 The Need for Life Insurance
When it comes down to it, it's not about your age when it comes to life insurance. It's about who is in your life. If you have a spouse or partner, children, or a business partner, you are in the group of people that has the biggest need for life insurance. 
As we already said above, life insurance is a necessity no matter what stage of life you're in. But this is especially true if you have anyone who relies on you financially. Even if you think you don't need a policy because you're young and healthy, or if you don't think that the cost is worth it, you need to consider the financial consequences of your death on your family. They have to pay for your funeral services, your debts, and any other bills that they relied on you for. 
And what if you're older and retired with grown children, but a partner still living? You'll still be in the group that has a high need for coverage. Remember, your partner will still have expenses after you are gone, including your final expenses and any medical debts that you leave behind.  
Your loved ones can use the proceeds from a life insurance policy in a variety of ways, including:
Covering funeral and burial expenses

Paying off any outstanding debts owed by your estate

Creating a supplemental source of income for your loved ones

Helping with college expenses for children or grandchildren

Providing a nest egg of savings for a spouse's financial needs
Types Of Life Insurance
It's clear that anyone who has someone who relies on them financially is in serious need of life insurance, but the type of policy that is best for your life stage or situation will vary. You should look into the following types of policies:
A whole life insurance policy remains in effect for the entire life of the policyholder, as long as you keep up with the premiums payments. With this type of policy, premiums will remain the same throughout the life of the policy and will not increase for any reason. One of the best things about this type of policy is that it has a cash value component. Meaning your policy will build tax-deferred cash over time at a guaranteed rate of interest. 
Whole life insurance is best for people who want a longer policy with a cash value that they can borrow from. So one of these policies might be right for you if you're younger and have children who will one day go to college, since you can borrow money from your policy. Be aware that you must undergo a medical exam to qualify for a whole life policy, and that these policies are more expensive than term-life policies.
Term life insurance is one of the most affordable types available. But these policies only cover you for a limited period of time (or term), generally anywhere between 5-30 years. This type of policy is best for people who want affordable coverage for large expenses such as mortgage payments, college tuition, and other debts, usually those who are younger or middle-aged and want to be able to replace income in case of an unexpected death. One of the great things about term life is you can convert your policy to permanent life insurance before it expires without having to go through medical underwriting again.
Final expense insurance is generally bought to cover funeral expenses, burial expenses, and any other medical debts you may have. There is no medical exam required, and it is relatively affordable, but the death benefits are usually capped at $35,000. These policies are great for older people or those in poorer health, who might have difficulty getting another type of policy, but still want something to help their loved ones cover their final expenses.
Joint life insurance will provide coverage for both you and your partner. You can choose from a universal or whole life policy. But the death benefit is usually not paid out until both policyholders have passed away. A lot of couples will choose this option because it is cheaper than purchasing two separate policies. And the underwriting and rates are based on the younger and healthier partner.
How Much Coverage Do You Need?
To determine how much coverage you need, you'll have to take into consideration two major factors:
Income replacement

– Decide how many years of income you would like to replace for your family, then take that number and multiply it by your annual income.

What will need to be paid off

– Add up all the debt that you currently have, including mortgages, credit card debt, bank loans, and any other debt. Once you've calculated that amount, add it to the income replacement amount.
Looking For A Life Insurance Policy?
Whether you are young or old, it's important to consider life insurance to protect your loved ones and your assets. And it doesn't matter if you are in your 20s or 50s. There are many great affordable policies to choose from that will provide enough money for your family. The best way to find the right life insurance policy for you and your specific needs is by working with an agent who specializes in life insurance. We have provided the top life insurance companies in the nation below; each offers hassle-free assistance and the most competitive rates. Always check multiple sites to make sure you have bargaining power and know the advantages of each company. Make sure a hard time isn't made harder by a financial burden, check life insurance rates today.