A life insurance policy is a great way to make sure your family is financially protected after you're gone, but what if you become ill and your family needs financial help while you are still alive? Luckily there is a way to get benefits from your life insurance while you are alive. When looking for a policy consider adding an accelerated death benefit rider to your policy, which will provide you with money to be used for medical expenses if you become seriously, or terminally, ill. Do you have a family history of getting sick in your later years, do you just want to be cautious, or do you just want to be cautious? No matter what the reason, before you purchase a life insurance policy, find out how an accelerated death benefit rider can benefit you, and how it works. 
What Is an Accelerated Death Benefit Rider?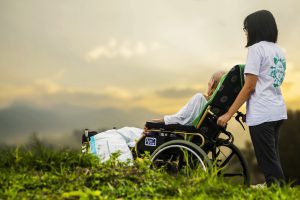 This type of rider allows you, the policyholder, to receive a portion of your death benefits before you pass away if you become terminally ill. It is a standard feature on most term life insurance policies; if it is not included in your life insurance policy, you have the option to add on this rider for an additional monthly premium fee. Generally this rider is meant to help with medical expenses, but you can use the money for anything you choose.  
How Does an Accelerated Death Benefit Rider Work?
If you have an accelerated death benefit rider, most insurance companies will pay out if the insured is diagnosed with a terminal illness, and is expected to live no more than 1-2 years past their diagnosis. Every insurance company has guidelines on how much they will pay out on an accelerated death benefit rider; some will pay anywhere from 50-75% of your policy death benefit, and some will charge a one-time processing fee, usually $150. It is best to compare policies from different life insurance companies to determine which policy will provide the coverage amount you think you might need. 
It is important to note that the benefits you receive for your medical expenses will be deducted from the death benefit your beneficiary will receive after you pass away.
Qualifying For An Accelerated Death Benefit
Accelerated death benefits are best for people with shortened life expectancies, or for those who have major medical bills due to an illness. The rider is triggered under the following medical circumstances:
Terminal illness

– This is the most common reason to make a

claim

on an accelerated death benefit rider. To receive your benefit, you will need to provide certification from your doctor or a medical professional proving that you are terminally ill and have a life expectancy of 12-24 months. 

Critical illness

– You can also use this rider if you are diagnosed with a condition that will leave you with a shortened life expectancy, including cancer, heart attack, stroke, kidney failure, major organ transplant, or paralysis. 

Chronic condition

– Any condition that prevents you from performing 2 of the 6 daily activities for living (eating, bathing, toileting, continence, getting dressed, and mobility) will also allow you to make a claim.

Long-term care

– If you must be permanently confined to a nursing home, hospice care, or an assisted living facility, you can use your benefits.
An accelerated death benefit rider will provide you with extra money to help with large medical bills that stem from a terminal or critical illness. Claiming on this rider should not be confused with borrowing cash value from a whole life or universal life insurance policy, but those permanent policies will likely also have the accelerated death benefit rider built in. 
To learn more about accelerated death benefits and any other riders that you think could be beneficial to you, consider using online tools to see what is available, as well as working with an agent who will help you compare plans and decide which is the right fit for you. To get you started, we have provided the top insurance companies that offer life insurance policies below; each can give you hassle-free assistance and the most competitive rates in the nation. Always check multiple sites to make sure you have bargaining power and know the advantages of each company. Make sure a hard time isn't made harder by a financial burden, check life insurance rates today.