One million dollars sounds like a lot of money, right? But in terms of a life insurance policy, it really isn't a crazy amount when you think about all the debt, like mortgage and car payments, as well as other monthly and daily expenses, that your family would be left with if you were to pass away. Money will go quickly when paying off these debts, which is why it's important to look into million-dollar policies for your family.
Think about it this way: if you're married and bought a new home that costs $400,000, and you were to pass away, how would your spouse be able to afford your mortgage payments without your income? Having a large policy, such as a million dollar policy, will give you peace of mind knowing that your children and partner would be able to afford these mortgage payments, while also having enough money to help pay for other expenses your income would have covered. This type of large policy would mean that your family would be financially secure if the unexpected were to happen.
While million dollar policies are a good idea for a lot of people, you should know that there are some requirements you must meet in order to get one. So what can you do to qualify for one? Try adopting the following 4 healthy habits that will help you qualify for a million dollar policy. 
1. Quit Smoking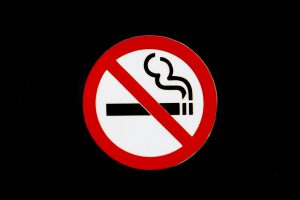 One of the first questions that most life insurance companies will ask when you apply for a policy is if you use tobacco products. This is because insurers always try to assess what kind of risk an applicant will be at before providing them with a policy. And because cigarette smoking is linked to 80 to 90% of cases of lung cancer, insurance companies see this as a huge red flag. So if you are a smoker, consider quitting and then waiting before you reapply for a life insurance policy. If you do this, you might qualify for lower premiums on a million-dollar life insurance policy.
2. Lose Weight
Your weight  is another thing that insurers take into consideration when determining both your premiums and how much coverage you qualify for. Their view is that if you are overweight or are considered obese, you will be more likely to develop health conditions, such as diabetes, high cholesterol, heart disease, and stroke. So losing weight will not only improve your health overall, it will also make you more likely to be able to purchase a million-dollar life insurance policy at a reasonable price.
3. Eat Healthy & Exercise
Eating healthy and exercising are important parts of living a healthy life. Choosing to eat better and getting at least 150 minutes of moderate exercise a week can help you lower your cholesterol, maintain a healthy weight, and reduce the risk of heart issues. Not only that, but these habits will make you look better to life insurance companies, and could help you get your million dollar policy.
4. Avoid a High-Risk Lifestyle
If you are into scuba diving, jumping out of planes, or any other high-risk activities, this is generally a red flag for life insurance companies. And not only is your lifestyle important in determining your eligibility, but so is your profession. If you have a high-risk job such as a logger,  you will also be considered a bigger risk for a life insurance company to take on. Consider avoiding high-risk activities that will result in higher premiums, as well as a lower benefit amount. 
How To Find The Best Policy
There are many great affordable life insurance options to choose from that will provide enough money for your family, for a low monthly price. The best way to find the right life insurance policy for you and your specific needs is by working with an agent who specializes in life insurance. We have provided the top life insurance companies in the nation below; each offers hassle-free assistance and the most competitive rates. Always check multiple sites to make sure you have bargaining power and know the advantages of each company. Make sure a hard time isn't made harder by a financial burden, check life insurance rates today.