If you have a life insurance policy, you've taken an excellent step towards protecting your family's financial future. And if you've taken another step in that direction by writing your will, it is important to understand how your life insurance policy will work with your will. Both will distribute money to your loved ones after you pass, but in different ways. You might be wondering if you should include your life insurance policy in your will, or if you can use your will to distribute your life insurance, so let's take a look at what you need to know when you have both a life insurance policy and a will.
Is Life Insurance Included In A Will?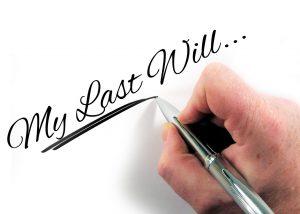 A will is a legal document that lays out your final wishes and gives instructions for how you want your assets distributed after you pass away. This does not include assets that you own with other people, like a house, and it does not include your life insurance policy's death benefit. Your death benefit can be included in the valuation of your estate in certain cases, but it is not considered an asset. This is because your life insurance payout is meant for your life insurance beneficiary once you die, and is only payable after your death in most cases, meaning it should not be included in your will. 
The only time that your life insurance becomes part of your estate is if your named life insurance beneficiaries have predeceased you. In this case, the death benefit will be distributed according to your will and the beneficiaries named in it. 
Does Your Life Insurance Need To Have The Same
Beneficiary
As Your Will?
The person/people named in your will and your life insurance beneficiary(ies) do not have to be the same people. For example, you can name your children as the beneficiaries of your life insurance policy, and at the same time, you can use your will to distribute assets to your spouse, or vice versa. You can also choose to make the beneficiary of both your life insurance and will the same person. Your will and life insurance policy allow you to have multiple beneficiaries, as well as primary and contingent beneficiaries. You can also change these beneficiaries at any point in time, if you need to. 

Now that you are aware of the difference between the beneficiaries of a will and a life insurance policy, you know how these documents work differently, and how they can work together. Your life insurance policy will go to your specific beneficiary, and that does not necessarily have to be the same person you name as a beneficiary in your will. 
If you're on the lookout for a life insurance policy, there are many different kinds to choose from, including whole life insurance, term life insurance, and final expense insurance, so if you're not sure where to begin, consider using online tools, or speaking with an agent. The right policy for you is out there! We have provided the top insurance companies that offer life insurance policies below; each can give you hassle-free assistance and the most competitive rates in the nation. Always check multiple sites to make sure you have bargaining power and know the advantages of each company. Make sure a hard time isn't made harder by a financial burden, check life insurance rates today.