Choosing a life insurance policy can be very confusing, since there are so many different options to look into. But we can help break down what you need to consider when searching for a policy! First, you'll need to decide between the two main types of policies: whole life insurance and term life insurance. And while term life is excellent for people on a budget, there are situations when whole life is simply a better deal. So what's the difference between the two, and is whole life right for you?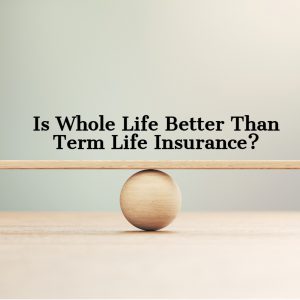 Difference Between Term & Whole Life
Both term life and whole life require you to pay a monthly premium. In return, your family will get an agreed-upon amount of money (your death benefit) when you pass away. The major difference between these types of policies lies in the length of the policy. 
When you purchase term life insurance, you will be asked to choose the amount of time that your coverage will last, typically anywhere from ten to thirty years. After that amount of time, your policy will expire. If you outlive the policy, your family will not get your death benefit. And you will then have to decide whether to buy a new policy or extend your term. In both cases, your policy will likely be more expensive because you will be older and might have developed health conditions. 
The possibility that your policy will end, and you will have to extend or repurchase is a major drawback of term life. With whole life insurance, though, you might pay higher premiums. But the policy will cover you for the rest of your life. Not only that, but many whole life policies have a cash value – like a savings account – attached to the policy that accrues money over time.
As we mentioned above, whole life can be more expensive than term life. But the difference in price is often not actually all that much. And again, with a whole life insurance policy, you will build a cash value account that grows over time. And the account is tax-deferred. So you can essentially use your policy as a type of bank account.
You should also consider whole life insurance over term life if:
You're close to 50

– You might think that if you're heading towards 50, or a little older, term life is the way to go. But if you're only around 50, you have a good chance of outliving a term life insurance policy. And then you'd have to pay an extremely high premium to get a new policy (that might have a smaller death benefit), since you will be buying/renewing your policy at a much older age.

You have children in college

– If you have a child or children in college, a whole life insurance policy with added cash value is a great option. With one of these policies, you can save that money and then give it to your child for tuition.

You've been diagnosed with a medical condition

– If you missed the opportunity to purchase a term life insurance policy when you were young and healthy, odds are that one will be very expensive if your health is no longer what it once was. In this case, it would probably be smarter to get a guaranteed issue whole life insurance policy. Rather than run the risk of not qualifying for a standard life insurance policy later on.

You have a child with special needs

– Whole life is a great choice if you are a parent who has a child with special needs and an existing special needs trust. You can consider survivorship whole life insurance. Which covers both parents but only pays the death benefit after the remaining parent passes away. This is an excellent type of permanent coverage that is a great deal more affordable than coverage for both parents.  

You own a busine

ss- There are a variety of types of life insurance options available to business owners. For example, you can take out a permanent cash-value life insurance policy such as an indexed universal life policy. With which you can access funds should you need liquidity in case of an emergency. Or if the key employee leaves the company.
Whole life insurance is a great choice for a lot of people. But if you're not sure which policy is best for you, your best bet is to compare policies from different companies. There are many great affordable life insurance options to choose from that will provide enough money for your family. The best way to find the right life insurance policy is by working with an agent who specializes in life insurance. We have provided the top life insurance companies in the nation below; each offers hassle-free assistance and the most competitive rates. Always check multiple sites to make sure you have bargaining power and know the advantages of each company. Make sure a hard time isn't made harder by a financial burden, check life insurance rates today.