Funerals are not something we often think about until we have to deal with them in our own lives, but it's an unfortunate fact that they require a lot of planning and are extremely expensive. In fact, the average funeral costs anywhere from $10,000 to $15,00 – that's a lot of money for your family to come up with, but it will be necessary for them to do so one day. Paying for your final expenses doesn't have to be a burden for them, though: you can cover your funeral costs and protect your family's financial security with final expense life insurance. There are multiple types of policies to choose from, so you are sure to find the one that is right for you and your family.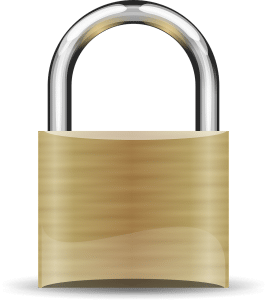 A final expense life insurance policy will pay out benefits to your chosen beneficiary to cover medical and other end-of-life expenses, including funeral and/or cremation costs. But there is some flexibility as to how your loved one can spend the money: after paying for your funeral, they can decide to use the money for other debts or expenses. And that's not the only great thing about this type of policy; other benefits of a final expense life insurance policy include:
No medical exam required for coverage

You will be approved and insured after answering a few questions

Your policy will not be canceled due to changes in your health status

Coverage is guaranteed for life as long as you pay your premiums

Premiums are locked in and cannot be raised by the insurer

Policies have a cash value that builds over time and can be accessed at any time

Death benefits are tax-free
Some plans will also offer additional benefits in the event of an accidental death.
Types of Final Expense Policies
Most companies offer multiple types of final expense policies, and it is important to compare all plans offered by different companies so you can find the right one for your needs and budget. Final expense policies fall into 2 basic categories:
Simplified issue policies

– Over 90% of final expense policies are simplified issue. This means that medical exams are not required to get coverage, but you will have to answer some questions, such as whether you use tobacco products.

Guaranteed issue policies

– This type of policy is usually only issued to those aged 40-80. You will need to answer medical questions with this policy, but the insurer will not generally ask if you are a smoker. 
Depending on your age and health status, there are different types of plans you can choose from: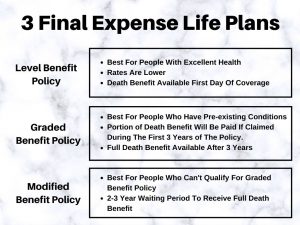 Level Benefit Policy

– This type of policy is offered to applicants who are in excellent health, and is very similar to whole or term life insurance, because the rates are lower and the death benefit will be available on the first day of coverage. 

Graded Benefit Policy

– If you cannot qualify for a level benefit policy due to pre-existing health conditions, you can look into this type of policy, which will pay a portion of the death benefit if claimed during the first 3 years of the policy life, and the full benefit after 3 years have passed. 

Modified Benefit Policy

– If you cannot qualify for level benefit or graded benefit policies, this policy is the way to go. It requires no medical underwriting, but there is a 2-3 year waiting period before the insurer will pay the full death benefit; however, if you die from natural causes before the waiting period is up, the insurer will pay the sum of all premiums paid plus 10% interest. 
How Much Coverage Do You Need?
Picking a policy is a big decision, and in order to know which is best for you, you should first determine how much coverage you need. The best way to do this is to estimate your monthly household expenses and factor in funeral expenses, which on average will be $10,000. 
No one wants to think about their own death, but it is important that your family is financially protected when the time does come. When determining which policy is best for you, you should look at multiple insurance companies; consider using online tools to see what is available, as well as working with an agent who will help you compare plans and see which is the right fit for you. To get you started, we have provided the top insurance companies that offer final expense life insurance policies below; each can give you hassle-free assistance and the most competitive rates in the nation. Always check multiple sites to make sure you have bargaining power and know the advantages of each company. Make sure a hard time isn't made harder by a financial burden, check life insurance rates today.