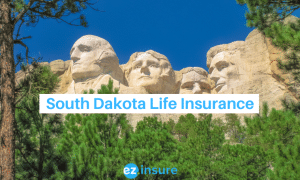 Buying life insurance is a great way to protect your loved ones financially. But finding the right policy for you can be difficult. If you're looking for life insurance in South Dakota, you'll need to examine your options as well as South Dakota's life insurance laws. Learning everything you can about the South Dakota life insurance industry can feel like an overwhelming task. But EZ is here to help. First, read our overview of life insurance in South Dakota. Then speak to an EZ agent so that they can direct you to the best policy for you.
Jump To:
How Life Insurance Works in South Dakota
You and the insurer you choose enter into a legally binding contract when you purchase life insurance. They set your monthly premiums based on a number of factors. As long as you continue to pay these premiums, your chosen beneficiaries will receive the death benefit amount specified in your policy after you pass. This lump-sum payout can be spent however your beneficiary sees fit. Including paying down debts, saving for the future, or replacing your income.
If you have dependents, debts, or other financial obligations that will continue after your death, you should seriously consider life insurance. But if you are your family's sole breadwinner, life insurance is a necessity for financially protecting your loved ones even after you are gone. 
Types of South Dakota Life Insurance
With all of the many options available today, you will certainly be able to find a life insurance policy that's right for you. But you'll have to make a lot of decisions about what you want and need. The first of which will be between the two main types of life insurance: 
Term life insurance
Permanent life insurance
The two most important factors to consider when deciding between term and permanent life insurance are your budget and anticipated coverage needs. You'll need to think about how long you want your policy to last. As well as whether you want any extra features included in your coverage.
Because of its affordable premiums, term life insurance is the more popular type of life insurance. These policies are less expensive because they do not cover you indefinitely. Instead, you choose the length of your policy's term, which can range from one to thirty years, with fifteen years being the most common. If you die while the policy is still in effect, your beneficiaries will receive a tax-free death benefit. Most term life insurance policies have fixed premiums that do not increase over time, making them straightforward, solid options. 
There are several types of term life policies available, including:
Level Term Life Insurance
The death benefit and premiums are set at the time of purchase with level term life insurance. So, they will remain unchanged for the duration of the policy. The majority of people who buy life insurance choose level term policies.
Annual Renewable Term Life Insurance
Annual renewable life insurance is a one-year term life insurance policy. Policies can be renewed on an annual basis, but your premiums will likely go up each time you renew.
Increasing Term Life Insurance
The death benefit of an increasing term life insurance policy will increase at predetermined intervals throughout the policy's term. The value of your death benefit, for example, may increase by 5% per year. Increasing term policy premiums can fluctuate, unlike those of other types of term life insurance.
Decreasing Term Life Insurance
Although the premium for decreasing term life insurance will not change, the amount of the death benefit will gradually decrease. The most common reason for purchasing this type of policy is to provide coverage while a mortgage or other loan is being paid off. The death benefit decreases as the loan is repaid.
Return-of-Premium Life Insurance
If you don't die before the policy's expiration date, your premium payments will be refunded with return-of-premium (ROP) term life insurance. ROP policies are significantly more expensive than other types of term life insurance. But the return of premiums feature is very appealing to many people.
Permanent Life Insurance
Permanent life insurance differs from term life insurance in that it will cover you for as long as you continue to pay the premiums. Because of this, and because these policies usually include a type of savings account, known as cash value, that grows over time, premiums for permanent life are typically higher than for term life insurance premiums. 
There are numerous types of permanent life insurance policies available, including:
Whole life policies provide both guaranteed death benefits and the ability to build cash value. Interest on this cash value accrues at a predetermined, tax-free rate for the duration of the policy's life. 
Universal life insurance policies are the most flexible option. The premiums and death benefit of this type of policy are both adjustable. Premium payments are applied first to the cost of insurance (COI), and then to the accumulation of cash value, which you can use to pay future premiums if you so desire. You can also reduce the amount of your death benefit at any time to save money on premiums.
Indexed Universal Life Insurance
This type of permanent life insurance has a cash value linked to a stock index, so you can profit if your stocks perform well. As the cash value of the policy increases, the premiums for this policy can be adjusted in the same way that they can for a universal life policy. Your indexed universal life insurance (IUL) policy may eventually be converted to a no-premium policy, with the cash value covering the entire premium.
Variable Universal Life Insurance
The cash value of a variable universal life (VUL) policy, like the cash value of other universal life insurance policies, can be invested, but with VUL, you can invest in subaccounts that are similar to mutual funds. VUL policies, like traditional universal life insurance, have adjustable premiums. 
Final expense life insurance may be a good option for you if you are older or have health issues that make obtaining a standard policy difficult. These policies are more expensive than others since they do not require a medical exam. And they tend to have small payouts between $2,000 and $35,000. A final expense insurance policy's death benefit is intended to cover the insured's burial, cremation, or funeral expenses. Your beneficiaries, though, will be free to use the death benefit funds for whatever purpose they see fit, such as a vacation or bill payment.
South Dakota Life Insurance Laws
In the case of life insurance policies, the federal government has largely delegated the responsibility of regulating the insurance industries and protecting consumers to the states. The primary regulating force for the insurance industry in South Dakota is Title 58 of the South Dakota Codified Laws. But other legal provisions have also been adopted as consumer protection laws. The South Dakota Division of Insurance, which is part of the Department of Labor and Regulation, regulates the insurance industry in the state.
The following are the most important rules that may apply in your situation:
Free Look Period
In South Dakota, all life insurance policies must include a 10-day "free look period." Free look periods allow new policyholders to test and review their new policies, and then cancel them for a full refund if they are unhappy with them. 
Grace Period
If you miss a premium payment, South Dakota law requires your insurance company to give you a 30-day grace period before they cancel your policy. In addition, if you die during this time period and a valid claim is filed, the insurance company is required to pay your beneficiaries in full. 
Benefit Guarantee
If your life insurance company fails in South Dakota, your policy will be guaranteed by the South Dakota Life and Health Insurance Guaranty Association. This organization will protect your life insurance policy for up to $300,000 in lost death benefits. As long as you have paid your premiums on time and your insurer was licensed to do business in the state. It's important to note that even if you have multiple life insurance policies, you are only covered for up to $300,000.
Settlement Timelines
After filing a life insurance claim in South Dakota, your insurer will have two months to pay the claim. This law was enacted in the hope of protecting consumers from insurance companies delaying or withholding benefit payments. If an insurer is late in paying out a claim, they will be penalized, and the beneficiary's account may accrue interest.
The Cost
Personal factors such as your age, health, and even gender will influence your life insurance premiums. The quickest way to determine the cost is to obtain a policy quote from one of our EZ agents. But to give you an example of what premium prices look like, a 30-year-old healthy man in South Dakota could pay anywhere from $17 to $53 per month for a $696,000 policy with a 20-year term.
South Dakota Life Insurance Resources
In South Dakota, there are several resources in place to help you if you have any problems with your insurer or policy. These resources include:
South Dakota Department of Labor and Regulation's Division of Insurance –

If you have any questions or complaints about a life insurance company in South Dakota. You can contact the Division of Insurance at the South Dakota Department of Labor and Regulation.

South Dakota Life & Health Insurance Guaranty Association

-Your death benefit will be paid even if your insurance company goes bankrupt.

National Association of Insurance Commissioners

– Consumers who need assistance locating a policy owned by a deceased relative can contact the National Association of Insurance Commissioners, which operates a lost policy locator service. The organization also provides educational materials. Such as a glossary of life insurance terms, to help consumers make better purchasing decisions.
FAQs
Does South Dakota require life insurance?
No, you will never be forced to get life insurance. It is always your choice.
What are the best life insurance companies in South Dakota?
There are a lot of good ways to get life insurance in South Dakota. At the top of the list are Prudential, New York Life, Lombard International, Pacific Life, and Zurich.
How much does life insurance cost in South Dakota?
There are many things that can change how much life insurance costs, but here's an example. A 30-year-old woman in South Dakota who is in good health and wants a 20-year term policy that costs $696,000 and lasts for 20 years will pay an average of $28.38 per month for it. On the other hand, a healthy 30-year-old man will pay about $32.56 for the same policy.
EZ Can Help!
We at EZ understand that you want the best for your family without breaking the bank. We also know that finding the right life insurance policy can be time-consuming and frustrating. So, we make every effort to simplify the process of purchasing life insurance. And we offer all of our services for free. You won't have to pay a dime for assistance with anything. From answering basic questions to navigating policy selection to the enrollment process and beyond. Simply enter your zip code in the space provided below or call us at 877-670-3560 to get started.
Looking For A Different Type Of Insurance In South Dakota?