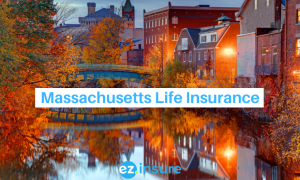 If you want to protect your family's financial future, finding the right life insurance policy for you is a must. But before you purchase a policy in Massachusetts, there are many factors to take into consideration. You'll have a huge amount of policies to choose from. And there are a lot of rules and regulations surrounding life insurance that you should be aware of. To make the most well-informed decision possible, you should do as much research as possible on the life insurance market in Massachusetts. This might sound like a daunting task, but don't worry: EZ is here to help. First, read our comprehensive guide below. Then contact an EZ agent, who can help you find the best policy for you.
Jump To:
How Life Insurance Works in Massachusetts
A life insurance policy is essentially a contract between you and your chosen insurer. You agree to pay the required premiums, and if you do so, your loved ones will be entitled to a lump-sum death benefit from the insurance company if you die while the policy is still in effect. Your chosen beneficiaries will be able to use the money however they choose. For things like mortgage repayment, retirement or college savings, or income replacement.
Types of Life Insurance in Massachusetts
With so many options available, almost anyone can find a life insurance policy that is right for them. There is certainly a policy out there for you, but you will have to decide what you're looking for from your policy. The first decision you'll have to make is whether term life insurance or permanent life insurance is right for you. 
When deciding between term and permanent life insurance, one of the most important factors to consider is how long you want the policy to cover you for. You'll also need to think about how much you're willing to spend, and the features that you want with your policy.
Term life insurance tends to be more popular than permanent life because of its affordable premiums. This type of policy is usually cheaper because your policy will not remain in effect indefinitely. Instead, when you purchase term insurance, you specify the length of coverage, or your "term". Term lengths are typically 15, 20, 25, or 30 years. 
These policies are also popular because they are fairly straightforward. For example, your monthly premium payments, in most cases, are guaranteed to remain the same for the whole term. 
With term life, as with all life insurance, your beneficiaries will receive a tax-free death benefit if you die while the policy is still in effect. If your term has ended, though, and your policy has expired, you will not receive any money in most cases.
There are several types of term life insurance policies available, including:
Level Term Life Insurance
The death benefit and premiums for level term life insurance are fixed for the duration of the policy. The majority of people who purchase term life choose level term life insurance.
Annual Renewable Term Life Insurance
Annual renewable life insurance is a one-year term life insurance policy. You will be able to renew your policy on an annual basis, but your premiums will rise each time you do.
Increasing Term Life Insurance
The death benefit of an increasing term life insurance policy will grow over the course of the policy's coverage. Your policy's death benefit could increase by 5% each year, for example. Unlike with other types of term life, premiums for term insurance may increase or decrease over the policy's term.
Decreasing Term Life Insurance
On the other hand, the death benefit of this type of policy gradually decreases over the course of the policy. While the premiums stay the same. This type of policy is typically purchased for coverage while repaying a mortgage or loan. And the amount of the death benefit will decrease as the loan is repaid. 
Return-of-Premium Life Insurance
With return-of-premium (ROP) term life insurance, your premium payments will be refunded if you don't die before the policy's expiration date. Many people find the return of premiums feature appealing. Although, it's important to note that the cost of ROP policies is significantly higher than that of other types of term life.
Permanent Life Insurance
Term life and permanent life insurance differ in a few significant ways. First, with permanent life, your policy will remain in effect for the rest of your life as long as you continue to pay your premiums. Next, permanent life policies usually include a type of savings account, known as cash value, which accrues interest and can be borrowed against, or even used to help pay your premiums. Because of these features, premiums are usually higher than those of term life policies. 
There are numerous types of permanent life insurance policies to choose from, including:
A guaranteed death benefit and fixed premiums are included with a whole life insurance policy. A whole life insurance policy, in addition to providing a death benefit, can accumulate cash value that earns interest at a predetermined, tax-free rate.
With universal life (UL), you can change your death benefit as well as your premium payments. If you choose to lower the amount of your policy's death benefit, you will pay less in premiums. You can also choose to pay part of your premiums with the cash value associated with your policy, once you have accumulated enough money in your account.
Indexed Universal Life Insurance
Indexed universal life, or IUL, insurance is another type of permanent life insurance with a cash value. But unlike with policies like whole life, the cash value of an IUL can grow through investment in a stock index, which is a predetermined grouping of various stocks. You can change your IUL premium, like with other universal life policy premiums: your premiums can increase or decrease in proportion to the cash value of the policy. Eventually, the cash value may be sufficient to cover everything, and you will no longer be required to pay the premium.
Variable Universal Life Insurance
Like the cash value of other types of permanent life insurance policies, the cash value of a variable universal life (VUL) policy can be used to make investments, but you will be able to invest using the policy's subaccounts, which are similar to mutual funds. Premium changes are possible, just like with traditional universal life insurance. 
Final expense life insurance is a type of whole life policy that pays out a small death benefit, typically $2,000 to $35,000. This death benefit is intended to pay for final expenses such as a burial, cremation, or funeral services. But your beneficiary will have complete control over how the death benefit funds are spent. The funds could, for example, be used to pay the beneficiary's taxes or to take a vacation.
One of these policies might be a good option for you if you are older or in poor health, because you will be able to get a final expense policy quickly without having to undergo medical underwriting. But you should be aware that these policies can be a bit more expensive than comparable plans.
Massachusetts Life Insurance Laws
State governments, rather than the federal government, are responsible for regulating the insurance sector and guaranteeing consumer protection in the case of life insurance policies. That means life insurance policies in Massachusetts are subject to state consumer protection laws. In Massachusetts, the regulation of the insurance market falls under the jurisdiction of the Division of Insurance in the state's Office of Consumer Affairs and Business Regulation. Although other provisions have been adopted as consumer protection laws. Chapter 175 (Title XXII) of the Laws of Massachusetts is the primary regulating force behind the insurance industry in Massachusetts. 
All of this means that you will have the following rights when you purchase a life insurance policy in Massachusetts:
Free Look Period
As in most states, in Massachusetts you will be given what's known as a free look period after you purchase your policy. During which you can decide if you've purchased the right policy for you. In Massachusetts, you will have 10 days to cancel your policy and receive a full refund, no questions asked. And even if you pass away during your free look period, your insurance company will still have to pay the death benefit specified in the policy.
Grace Period
In the state of Massachusetts, you will also be given a grace period if you fall behind on your life insurance premium payments. This means you will be given 30 days to make up your missed payment. And your policy cannot be immediately canceled. 
Benefit Guarantee
Massachusetts established the Massachusetts Life and Health Insurance Guaranty Association to look out for its citizens. This organization will pay out death benefits if an insurer goes bankrupt. But be aware that no matter how much your policy is worth or how many policies you have, your coverage from the guaranty association is capped at $300,000 in death benefit payments, and your cash value is only guaranteed up to $100,000.
The Cost
The cost of your premiums will be affected by factors such as your age, health, and even your gender. Get in touch with one of our EZ agents for the quickest and most precise access to data on prices. They can give you no-obligation quotes tailored to you. But to give an example of what life insurance premium prices look like, a healthy 31-year-old man who does not smoke could pay anywhere from $19 to $64 per month for a 20-year $1,009,000 policy in Massachusetts. 
Massachusetts Life Insurance Resources
In Massachusetts, there are several resources in place to help you if you have any problems with your insurer or policy. These resources include:
Commonwealth of Massachusetts Division of Insurance

– The Commonwealth of Massachusetts Division of Insurance is in charge of regulating insurance companies operating in the state and keeps a wealth of information that policyholders can use. 
Massachusetts Life & Health Insurance Guaranty Association

– Massachusetts law mandates membership in the Massachusetts Life & Health Insurance Guaranty Association for any insurance company conducting business in the state. In the event that a guaranty association member company goes out of business, policyholders will be protected by the association's coverage.
FAQs
Does Massachusetts require life insurance?
No, you will never be forced to get life insurance. It is always your choice.
What are the best life insurance companies in Massachusetts?
There are a lot of good ways to get life insurance in Massachusetts. At the top of the list are John Hancock Financial, NorthwesternMutual, Transamerica, New York Life, and Prudential.
How much does life insurance cost in Massachusetts?
There are many things that can affect how much life insurance costs, but here's an example. For a 20-year term policy that costs $1,030,000, a healthy 31-year-old woman in Massachusetts will pay an average of $32.19 per month. A healthy 31-year-old man, on the other hand, will pay about $30.32 for the same policy.
EZ Can Help!
We at EZ understand that you want to find financial security for your family without breaking the bank, and we know that it's tough to do that alone. So, we make every effort to simplify the process of purchasing life insurance. And everything we do, we do for free! You will not be charged any additional fees for assistance with anything. From answering basic questions to navigating policy selection to the enrollment process and beyond. Simply enter your zip code in the space provided below or call us at 877-670-3560 to get started.
Looking For A Different Type Of Insurance In Massachusetts?