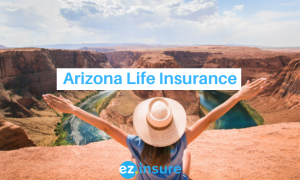 Are you looking for the peace of mind that comes with knowing your family will be financially protected in the future? Then you should be looking for a life insurance policy! But we get it, this search can feel overwhelming, since there is so much to consider, as well as a wide range of laws that affect Arizona life insurance policyholders. You'll need to learn as much as possible about the Arizona life insurance market before committing to a policy in Arizona. But EZ is here to help. Read our guide to life insurance policies below. Then speak to an EZ agent to find the right policy for you and your family.
Jump To:
How Life Insurance Works in Arizona
Simply put, life insurance is an agreement between you and an insurance provider that you will make periodic payments (your premiums) in exchange for a lump-sum payment in the event of your death. After your passing, the lump sum your designated beneficiary (or beneficiaries) will receive is known as a death benefit.
Those who have debts, dependents, or other financial obligations that would need to be met even after death should seriously consider purchasing life insurance. If you are the sole breadwinner in your family, purchasing life insurance is especially crucial to ensuring your loved ones are provided for financially in the event of your passing. They will be able to put the money they receive from your policy toward retirement, mortgage payments, the cost of tuition, or other debts. Or they can simply use it as a replacement for your salary that will help keep up their current lifestyle.
Types of Life Insurance In Arizona
Life insurance policies come in a wide variety of forms. Making it possible to find one that suits the needs and preferences of virtually anyone. The first decision you'll have to make is between the two main types of life insurance:
Term life insurance
Permanent life insurance 
This decision will be highly influenced by the specific needs you have. Especially whether you're looking for a policy for the near term, or the longer term.
Term life insurance is the most popular type of policy. And for good reason: it has exceptionally low premiums when compared with permanent life insurance. This is because term insurance doesn't cover you for your entire life. Rather you will be able to choose the length (or "term") of your policy. The typical length of a policy's term is 10–15 years, but it can also be 20, 25, or 30 years. If you pass away while the policy is still in effect, your beneficiaries will be eligible to receive a tax-free death benefit.
Another advantage of term life is that your premium payments are generally guaranteed to remain the same throughout the duration of your policy. 
There are several types of term policies:
Level Term Life Insurance
The death benefit and premiums for level term life insurance are fixed at the time of purchase. Meaning they do not change throughout the policy's term. The vast majority of term life insurance policyholders select level term policies.
Annual Renewable Term Life Insurance
This type of policy covers you for one year. You can renew your policy every year, but the cost rises as you get older.
Increasing Term Life Insurance
Your increasing term life insurance policy's death benefit will increase in value over time at regular intervals. For example, it is possible that your benefit amount will increase by 5% each year. You should be aware, though, that increasing term insurance premiums are more expensive than other types of term life policies. And their premiums may fluctuate over time.
Decreasing Term Life Insurance
With this type of policy, the death benefit gradually decreases while the premiums remain constant throughout the policy's duration. Decreasing term life insurance generally offers coverage while you repay a loan or mortgage. With the death benefit decreasing over time as the loan is repaid.
Return-of-Premium Life Insurance
Return-of-premium (ROP) insurance allows you to receive a refund of your premium payments if you don't die before your policy expires. ROP policies are significantly more expensive than other types of term policies. But you might find that the prospect of getting your premiums returned to you outweighs the extra cost.
Permanent Life Insurance
Permanent life insurance is different from term life in a number of ways. First, this type of policy will remain in effect for the rest of your life. As long as you pay your premiums. In addition, the premiums for these policies tend to be higher than those of term policies. Finally, these policies also usually include a cash value component, or a type of savings account that earns interest. From which you can borrow against, or even sometimes use to pay your premiums.
There are various types of permanent life insurance policies available, including:
The death benefit of whole life insurance is guaranteed, and the premiums remain fixed. A whole life insurance policy can accumulate cash value in addition to providing a death benefit to your loved ones. Your cash value account will accrue interest at a tax-free, predetermined rate.
This type of policy is one of the most flexible types of life insurance policy. Since you'll be able to adjust both the premium and death benefit amounts. Your premiums for UL policies will not only go toward the cost of insurance (COI). But also toward a cash value, which you might eventually be able to use toward paying your premiums. You can also adjust your death benefit, lowering it for lower premiums, or increasing it if needed for a higher premium.
Indexed Universal Life Insurance
Indexed universal life insurance (IUL) is another type of permanent life insurance with a cash value. But its cash value can increase based on a stock index, which is a predetermined grouping of different stocks. And, as with universal life, as the cash value of the policy increases, the premium for an IUL can be adjusted. It may eventually become a zero-premium policy, with the cash value covering all of your premiums.
Variable Universal Life Insurance
The cash value of a variable universal life (VUL) policy, like the cash value of other permanent life insurance policies, can be invested. And the premium can be adjusted in the same way that traditional universal life insurance premiums can. The difference is that variable universal life insurance policies include investment subaccounts to put the cash value to work. The subaccount structure is similar to that of a mutual fund. So, you can end up either making or losing money, depending on market fluctuations.
Another type of whole life insurance that might interest you, especially if you are older or not in the best of health, is final expense insurance. This type of policy is simple to obtain and pays a small benefit upon the death of the insured, usually between $2,000 and $35,000. The death benefit of final expense insurance is intended to cover final expenses. Such as a burial, cremation, or funeral services. But your beneficiaries are free to spend the death benefit on whatever they want. Including a vacation or the payment of property taxes.
Arizona Life Insurance Laws
In the case of life insurance policies, the federal government has largely delegated the responsibility of regulating the insurance industry and protecting consumers to the states. So while there are not many federal laws pertaining to life insurance, the state of Arizona has life insurance laws in place to protect consumers. The primary regulating force behind the insurance industry in the state of Arizona is Title 20 of the Arizona Revised Statutes. But other legal provisions have also been incorporated as consumer protection laws. The Arizona Department of Insurance regulates the state's insurance industry.
In Arizona, the following rules apply to life insurance policies:
Free Look Period
Unlike in some other states, there is no free look period required by law for Arizona life insurance policyholders. This means that your life insurance policy purchase will be considered final. And you will not be entitled to a full refund if you decide to cancel the policy within a few days or weeks, like in some other states. With that being said, though, most Arizona insurance companies will give customers a reasonable period of time — anywhere from 7 to 30 days — to change their minds after purchasing life insurance. Check with your insurance provider or review your policy to see what options are available. If your insurer does offer a free look period, and you cancel during this time, you will be entitled to a full refund of any premiums paid.
Grace Period
In Arizona, if you miss a premium payment, you will be given a grace period. Meaning your life insurance policy cannot be canceled if the premium is paid within a few weeks of the due date. You have 30 days in Arizona to make the payment before your insurer can cancel your policy or refuse to provide coverage.
Benefit Guarantee
Current life insurance policies are backed by the Arizona Life and Disability Insurance Guaranty Fund, so if your insurance company fails and cannot honor your policy, you will be able to work with them to get reimbursement. In order to get this protection, you must have paid your premiums on time, and the insurer must have been properly licensed to do business in Arizona. But be aware that this guarantee is limited to a maximum of $300,000 for lost death benefits and $100,000 for lost cash surrender, no matter what the value of your policy was.
Personal Information Protection
State laws require insurance companies to protect your personal information and privacy. Your insurer cannot release your private information without your permission, except in very limited circumstances. Each company is responsible for implementing its own privacy protection system, so for specifics, check with your insurer or the terms of your policy.
Settlement Timelines
When a life insurance claim is filed in Arizona, the death benefit must be paid to the beneficiary as soon as possible, usually within two months of receiving proof of death. Failure to settle claims in a timely, fair, and appropriate manner can result in significant penalties for the insurer. For example, if the death benefit claim is not settled within a reasonable time, the insurance company will have to pay accrued interest on the payout.
The Cost
Your age, your overall health, and even your gender can all have a significant impact on the cost of your life insurance premiums. Contacting one of our EZ agents is the best way to find out how much you might end up paying for a policy. They can use the information you provide to find you free quotes that are customized to meet your specific needs. But to give you an example of prices, a 25-year-old healthy man who doesn't smoke could pay between $19 and $52 a month for a 20-year $708,000 policy in Arizona.
Arizona Life Insurance Resources
In Arizona, there are several state and federal resources you can use to help you if you have any problems with your insurer or policy. These resources include:
Arizona State Legislature –

If you want to learn more about life insurance regulations and your consumer rights in Arizona, visit the Arizona State Legislature website. Its archives contain information about the state's mandatory provisions for life insurance policies, such as rules governing group and industrial life insurance providers.

Arizona Department of Administration Benefits

– The Arizona Department of Administration Benefits website is a useful resource for employers and employees who are enrolled in a state-provided workplace life insurance program. The website offers comprehensive details about Basic Life insurance policies for eligible employees.
FAQs
Does Arizona require life insurance?
No, life insurance is optional no matter where you live. 
What are the best life insurance companies in Arizona?
There are a lot of good options for life insurance in Arizona. At the top of the list are Nationwide, MassMutual, Transamerica, State Farm, and Prudential.
How much does life insurance cost in Arizona?
There are many things that can change how much life insurance costs, but here's an example. A 30-year-old woman in good health who lives in Arizona will pay an average of $25.35 per month for a 20-year term policy that covers $708,000. On the other hand, a healthy 30-year-old man will pay about $33.11 for the same policy.
EZ Can Help!
Everyone has their own set of needs, priorities, and financial constraints. We at EZ understand that you are looking for the best policy for you, so you can secure your loved ones' financial future without depleting your savings account. We make every effort to make the process of purchasing life insurance as simple as possible for you. Not only that, but every single one of our services is free of charge. You won't have to pay anything extra to get help with anything. From answering basic questions to navigating policy selection to the enrollment process and beyond. To get started, simply enter your zip code in the space below or call us at 877-670-356.
Looking For A Different Type Of Insurance In Arizona?