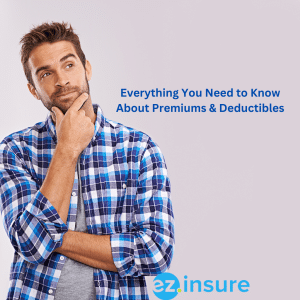 There are a lot of moving parts involved in health insurance. As well as a lot of terminology to learn in order to understand your plan and its costs. Two of the most important terms to understand are premiums and deductibles. These are the two out-of-pocket expenses associated with your health insurance plan that will end up costing you the most money. Understanding  these two terms, the difference between them, and how each operates will help you to better choose the best plan for your budget. Below we'll explain how these two health insurance costs are interdependent and have an impact on each other. 
Premiums
Like a Netflix or Spotify subscription, premiums are a monthly payment you make to maintain a service. In this case your health insurance plan. If you purchase an individual plan on the Health Insurance Marketplace, you will pay your premiums in their entirety. But you might be eligible for subsidies or tax rebates. If your employer offers a group health plan, the cost of your health insurance premiums may be partially or entirely covered by your employer.
How much you pay in premiums will vary based on several factors. Such as the policy you choose, the number of people in your family, and the insurance company you go through. In addition, when determining your premium, insurance companies may take into account factors such as your age, where you live, and whether or not you smoke cigarettes. For instance, because healthcare costs are assumed to increase with age, premiums for older adults are higher.
Premiums for individual health plans and family health plans function in the same way. There is only one payment required each month, so the cost itself is the only difference. The cost of your premium will be higher the more people who are covered by it. But, if you do the math, you might find that you're paying less per person for a family plan than you would if you all had your own separate plans. 
The only time this might not be the case is when someone in your family has significant health issues and another person rarely sees the doctor. In this case, it might be better to find plans that have lower premiums and higher deductibles for the healthier family member. And a plan with higher premiums and a lower deductible for the family member who needs more medical care. Let's see why by taking a closer look at how deductibles work. 
Deductibles
In most cases, your insurance plan will have an annual deductible. Which you will have to meet before your health insurance begins paying for any of your medical care costs.  "Meeting" your deductible means that you will have to pay that amount in covered expenses to get coverage for anything other than preventive care. So, if your plan has a $2,000 deductible, for example, you'll have to pay $2,000 out-of-pocket for things like lab work, minor surgeries, tests done at your doctor's office, etc., and then your insurance plan will begin covering those things. 
There are a variety of ways deductibles can work, and which medical expenses will count towards meeting them. Health insurance policies for individuals and families may include a deductible structure. In which the insurance company is not obligated to pay for services until the deductible has been met. But in some cases, a plan may cover some medical expenses before the deductible is met while excluding others. In addition, certain expenses like copayments won't count towards your deductible.
Individual vs. Family Deductibles
Health insurance deductibles can either be applied per person or per family. The way individual deductibles work is fairly straightforward, while family deductibles can be a bit  more complicated.
Individual

– First, the easy part. If you have an individual health insurance policy, the money you spend on qualified medical expenses will count toward meeting your deductible. Once your plan's deductible is met, you and your insurance company will begin dividing the remaining costs. Meaning you will pay what's known as "coinsurance," or a certain percentage of each bill. You'll do this until you reach your policy's out-of-pocket maximum.

Family

– This is where things can get confusing, because your plan might have both an individual deductible and a family deductible. There are two main categories of family deductibles: embedded and aggregate. An aggregate deductible works the same as an individual deductible. Your plan will have one deductible, and everyone on the policy will be paying towards it. 
Embedded deductibles, though, is where the confusion sometimes comes in. With an embedded deductible plan, there is both a family deductible and an individual deductible. So, each member of the family has a separate deductible in addition to the family's deductible. Once a family member's deductible is met, the insurance policy begins covering 100% of that person's healthcare costs. Everyone else in the family will still have to meet their own deductible after that member's deductible is met. 
In addition, there is also a family deductible with these plans. And all family members will begin to have their expenses covered once the family deductible is met. Everyone will have to only pay their coinsurance until the out-of-pocket maximum is reached, once the family deductible is met.
Costs
The cost of your premiums and the amount of your deductible will depend on a variety of factors. It is difficult to give an accurate estimate of what you'll pay without knowing your unique circumstances. Wut we can say that the average monthly premium price in the country is $456 per month. 
Check out our state-by-state health insurance guides to learn more about how the health insurance market is regulated in your state. And to get a baseline estimate of the costs. You can also learn more about the health insurance plans that are available in your state. As well as ways to reduce the cost of your coverage.
As for deductibles, the average nationwide deductible amount depends on the metal tier you choose for your plan: Bronze, Silver, Gold, or Platinum. Keep in mind, lower deductibles mean a higher premium.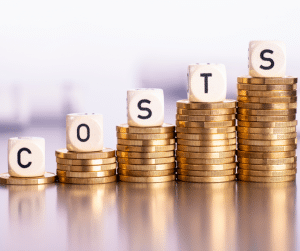 The average annual deductible amount for each tier is as follows:
Bronze – $7,482

Silver – $4,890

Gold – $1,650

Platinum – $745
How Premiums and Deductibles Work Together
Insurance premiums and deductibles are interrelated costs. Your plan's premiums will be higher if the deductible is lower, for example. So, generally, your plan will either have a higher monthly premium with a lower deductible, or a lower premium with a higher deductible.  
If you're wondering which type of plan would be better for you. Consider that a higher premium with a lower deductible would be more appropriate for someone who has a pre-existing condition and needs to see the doctor frequently. And if you don't often see the doctor or generally spend a lot on medical services, having a higher deductible won't be as much of an issue for you. And you might be better off spending less on your premiums.
FAQs
How can I lower my premiums?
If you have individual coverage, and your household's annual income is less than or equal to 400% of the federal poverty level, you might be eligible for subsidies or tax rebates. Which can lower the price of your premiums. If you have group health insurance through your employer, they might offer you reduced health insurance premiums or other incentives if you are able to meet certain health and wellness criteria.
What will increase my premiums?
Your health insurance premiums may increase for a variety of reasons. Including but not limited to inflation, adding family members to your plan, and relocating to an area with a higher cost of living. It's also possible that your monthly health insurance premiums will go up if you opt for a plan with more generous benefits. Consider the policy's premium in light of its benefits before making your decision.
Are premiums tax deductible?
If you have a plan through either the federal or state Health Insurance Marketplace, your premiums are tax deductible. If you're self-employed, health insurance premiums are tax deductible. And you may also be able to deduct the premiums you pay for long-term care insurance. Before submitting a tax deduction claim, you may want to consult a tax expert.
Is a high or low deductible plan better for me?
If you do not anticipate having many medical expenses during the next plan year, selecting a health insurance policy that has a high deductible could give you the best value. When you anticipate having a lot of medical expenses in the near future, such as if you plan on having a baby, selecting a plan with a low deductible could help you get the most value out of your coverage.
What does "no-charge" deductible mean?
If you have a plan with a "no-charge" deductible, your plan will pay 100% of eligible medical expenses after you meet your deductible for the year.  No-charge deductibles tend to be higher. But if you plan on using a lot of medical services for the year, it might balance out when you are no longer required to pay anything out-of-pocket.
How EZ Can Help
EZ.Insure provides access to local, highly trained insurance agents. Who will shop around for the best policy at the most affordable price. We can save you hundreds of dollars a year by searching both on and off the Marketplace for a plan that fits your needs. We can also find out if you're eligible for any local discounts. And then apply them to your plan for you. And the best part is that we do all of this for free! To find out how much you could be saving, simply enter your zip code on the box below for free, instant quotes. Or call us at 877-670-3557 to speak to an agent who can answer all of your questions and find you the perfect plan.