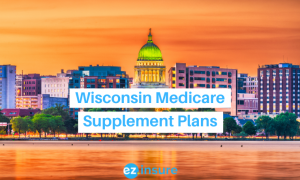 Original Medicare gives you good medical coverage, and lets you see any doctor in the country who accepts Medicare. But it's far from perfect. For example, you might find, as many Medicare recipients do, that the 20% Medicare Part B coinsurance and other out-of-pocket costs are burdensome. So, you might need extra coverage to keep the bills from piling up. If this is the case for you, or even if you're just looking to save some money, you should get a Wisconsin Medicare Supplement Plan to help you out.
Private insurance companies sell Medicare Supplement Plans to fill the gaps in Medicare Parts A and B. These plans usually cover your Part A deductible and your 20% Part B coinsurance, among other out-of-pocket expenses. But while these plans are sold by private companies, the Centers for Medicare & Medicaid Services (CMS) regulates Medicare Supplement Plans. The CMS requires that all plans with the same letter name cover the same benefits everywhere in the country.
Jump To:
Still, premiums can differ depending on which insurance company you choose. So, you need to compare both Medicare Supplement Plans and insurance companies to find the best one for you. EZ can help you make all your comparisons, but before you speak to an agent, read our guide to Medicare Supplement Plans in Wisconsin.
Wisconsin Medicare Supplement Plans 
Even though private insurers sell Medicare Supplement Plans, the plans in almost every state are the same because of federal rules. But Wisconsin is one of only three states that has a waiver from the federal government that lets it standardize its own Medicare Supplement Plans. So, Wisconsin's Medicare Supplement Plans are different from those in most of the rest of the country.
Instead of ten different plans to choose from there is only one "Basic Plan" available in Wisconsin. This Basic Plan must include certain "basic benefits" that are standard across the state, and which we will outline below.
And, if you do sign up for the plan available in Wisconsin, and you feel that you need more than just basic coverage. You can then choose to add "riders" that make the coverage more complete.
So, because Wisconsin is so different from other states, you might have a lot of questions about your options. To help get you started we've laid out what you can expect with Wisconsin's basic plan. As well as your rider options. And if you have more questions, speak to an EZ agent. Who can give you all the guidance you need on getting covered.
Wisconsin's Basic Plan
As touched on above, in Wisconsin, there is only one Medicare Supplement Plan: the Basic Plan. With this plan, insurance companies are required to offer certain "basic benefits" to ensure that you have adequate coverage. These benefits include coverage for:
Part A coinsurance
30 days at a skilled nursing facility –

With this Basic Plan benefit, there is no need to have been in the hospital first (as long as your stay is deemed medically necessary)

Hospice care
First 3 pints of blood
40 additional home health care visits –

This must also be deemed medically necessary

Part B Coinsurance
Inpatient and outpatient dialysis care
Costs related to organ transplants –

This plan must cover at least $30,000 for transplants

Diabetes supplies

– This includes self-management training and insulin pumps

Care at a surgery center
Chiropractic care
Screenings for colorectal cancer
Some clinical trials for cancer
Breast reconstruction
Wisconsin's Basic Plan also deals with prescriptions in a different way than in most other states. The Basic Plan must cover "catastrophic" prescription drugs. And, if your plan dates to before Part D became available in 2006, your Basic Plan must cover at least 80% of the costs of outpatient prescription drugs if you don't have Part D. Additionally, you will have to meet a deductible of $6,250 every calendar year for your Basic Plan prescriptions if you don't choose to enroll in Medicare Part D.
The Riders
So, in Wisconsin every Medicare Supplement Plan starts out as a Basic Plan, but then you can add riders to customize your coverage. There are 7 different riders available, which can cover the following:
Medicare Part A deductible –

Medicare Part A deductible is $1,600 per 60-day benefit period in 2023, meaning you might have to pay it more than once in a single year if you have multiple, long hospital stays. A rider for this deductible can be very helpful to those who might require hospital care.

Additional home health care

 

Medicare Part B deductible –

Coverage for the $226 annual Part B deductible is only available for those who became eligible for Medicare before January 1, 2020.

Medicare Part B excess charges –

If your doctor does not accept Medicare assignment, they are allowed to charge up to 15% more than the Medicare-approved amount for the services. The difference between the two amounts is an excess charge. Which you will be responsible for if you do not have coverage for Part B excess charges.

Foreign travel emergency –

If you travel out of the country often this rider will come in handy in case of an emergency overseas.

50% of the Medicare Part A deductible –

You also have the option of adding a rider that only covers half of this deductible.

Part B coinsurance –

You'll typically have to pay Medicare Part B coinsurance for doctor visits and other outpatient care: Medicare Part B pays 80% of the Medicare-approved amount for covered services, leaving you to pay the remaining 20%. This coinsurance can really add up, so a rider for this is a very popular choice.
The Combinations
There are several ways you can add these riders together to mimic the 10 standardized plans offered in most of the country.
The Basic Plan as it is without any riders is the equivalent to Plan A in other parts of the country. Since Plan A is the most basic plan.
Premiums for the Basic Plan can start at around $106 a month. 
If you need a step up from the Basic Plan/Plan A, you can combine the Basic Plan with rider option 1. That means you will have all the basics covered in addition to your Part A deductible, similar to Medicare Supplement Plan B.
If you're looking for something like Plan C or F, you need to have been eligible for Medicare before January 2020. To get coverage similar to Plan C, you should combine the Basic Plan with riders 1, 2, 3, and 5. To get Plan F benefits your combo should be the Basic Plan plus riders 1, 2, 3, 4, and 5. 
Plans C and F tend to be the most popular plans. So, if you qualify for these riders, these combinations are a great option. Premiums for these combinations of riders can cost around $150 a month.
If Plan D, which covers everything except for the Part B deductible and Part B excess charges, is more your speed, your combo should be the Basic Plan with riders 1, 2, and 5. This combination can start at $140 per month. 
If you like the coverage of Plan C and F, Plan G is the next best option. To get Plan G equivalent coverage you'll want to add riders 1, 2, 4, and 5 to your Basic Plan. This combo can cost around $143 a month.
And finally, if you like the out-of-pocket maximum that Plans K and L offer in other parts of the country. You should know that Medicare Supplement insurers in Wisconsin can also offer cost-sharing plans that require you to pay a portion of out-of-pocket costs until you reach a set out-of-pocket maximum. As with Plans K and L, once you spend that much in out-of-pocket expenses, you will then have the rest of your approved costs covered. This combination could cost between $89 and $120 a month.
When to Enroll
Medicare Supplement Plans are different from Medicare Advantage and Medicare Part D plans in that they don't have an annual Open Enrollment Period. Instead, federal rules give beneficiaries a one-time, six-month window when they are guaranteed to get Medicare Supplement coverage. This window begins when you turn 65 and enroll in Medicare Part B. It's important to take advantage of this time, since it is the only time you will be given guaranteed-issue rights. Meaning insurance companies won't be able to deny you or charge you more for coverage based on your health.
However, federal rules don't ensure that people under 65 who are on Medicare can get Medicare Supplement Plans. However, most states, including Wisconsin, have put in place rules to make sure that disabled Medicare recipients can get at least some access to Medicare Supplement Plans.
In Wisconsin, Medicare Supplement insurers are required to offer coverage to disabled Medicare enrollees under 65. With the same six-month Medicare Open Enrollment Period that starts when you sign up for Medicare Part B. But, if you are under 65, your premiums will be a lot higher than people 65 and older. In addition, insurers only have to offer the Medicare Supplement Basic Plan to people who are under 65 years old.
How To Choose 
When it comes to Medicare coverage, don't be afraid to ask questions. Speak to an EZ agent who can explain everything to you and even help you to sign up. EZ can assist you in enrolling in Medicare, looking for a Medicare Supplement Plan, or simply weighing your options. Our agents work with the best insurance companies in the country. So, they can provide you with a free comparison of all available plans in your area. We will go over your medical and financial needs and help you find a plan that works for you. To get started, simply enter your zip code in the box below or give one of our licensed agents a call at 877-670-3602.
Looking For A Different Type Of Insurance In Wisconsin?