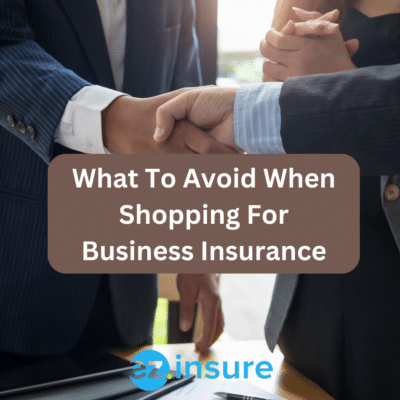 Shopping for insurance for a small business can be difficult and time consuming, especially for new businesses. Your business insurance needs and risks vary a lot more than individual insurance does. Running a business can feel like walking through a trap, where every step could be a mistake. It's easy to spend too much on some things and forget about important responsibilities. If you own or run a business, you need to make sure you have the right kind of insurance. But there are a lot of plans to choose from, and it can be hard to know what you need. Many business owners make decisions about business insurance too quickly, which leads to problems in the long run. Cutting corners in an attempt to save time and money can actually backfire and cost you more money and time than you bargained for. When you're shopping for business insurance, avoid these common mistakes. 
Shopping By Price
When running a business, it's important to save money. But picking a cheap insurance policy can end up costing you more in the long run. If you buy business insurance based on how cheap the monthly premiums are, you might not get the coverage you need to cover a claim. And it's not just for premiums, going for the lowest deductibles has the same consequences. When comparing policies, it can be very helpful to find a nearby independent insurance agent like EZ. An independent agent can get several quotes and give expert information about what is needed in the area. So, talk to your independent insurance agent about how your business is different and ask for a list of plans that fit your needs the best.
Not Reading Over The Policy 
Your policy holds important information about your coverage limits, deductibles, and exclusions. The document is most likely long and filled with legal jargon so it may seem tedious to take the time to read all of it, but skimming the policy could lead to a nasty surprise when you try to file a claim later. Before you buy the policy, you should take the time to read and understand the limits and benefits. This way you can ask any questions you may have. Additionally, knowing what kinds of losses aren't covered lets you know what supplemental coverage you may also need to get to make sure your business is fully protected.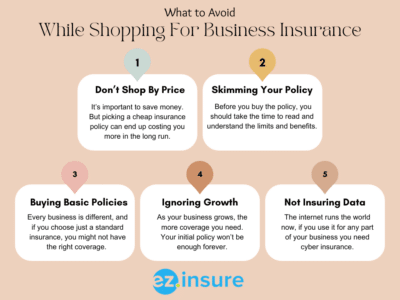 Not Protecting Your Income
When they buy insurance, some business owners put more value on their physical goods than on their profits. Even though disasters like fires and hurricanes cause companies to lose their physical assets, they may also lose money because of the downtime. Depending on your insurance and how your business works, it can be very hard to get back on your feet after a disaster and the downtime that follows. To keep your business from losing a lot of money while you make fixes or move, you must also make up for the lost income. Talk to your agent about income coverage and how to add it to your policy as you protect your business against natural disasters or theft. This insurance will pay you back for any income you lose if you have to close your business because of a disaster.
Not Changing Insurance Providers
Having a dependable insurance company is great, but many people stick with the same company solely because it's the one they've always used. But insurance companies change over time, and if yours begins to change in ways that don't benefit you and your growing needs then you need to change. Answering a few simple questions can help you figure out if your current company is meeting your business's needs.
Have my premiums gone up without coverage improving?

Are the services outdated?

Is your insurance company not focused on your specific industry?
If you said yes to any of these questions, you might want to look for a different company that can better meet your needs.
Buying Insurance That Doesn't Meet Your Needs
Every business is different, and if you choose just a standard insurance to meet insurance requirements, you might not have the right coverage. There's more to business insurance than just the amount of coverage you have. Your insurance needs to cover the specific risks your industry or clients have. No amount of coverage will help if your policy doesn't cover the claim you are filing. Talk to your agent about the services you offer and the customers and vendors who rely on you before you buy a policy. Your independent insurance provider can help you find the best business insurance policy for your needs.
Not Adjusting Your Insurance As Your Business Grows
Your business insurance protects your business. So, you shouldn't just buy your insurance and never think about it again. Your business's value will most likely be much higher in five years than it is today, and your insurance should reflect that. 
Talk to your agent about any changes in your business such as increased revenue, opening new storefronts, buying work vehicles. Then be ready to make the necessary changes to your policy. That way you never have a claim that won't be covered. 
Forgetting About Workers' Compensation Insurance
Almost every state has some laws requiring workers compensation insurance after you have a certain number of employees, some states require it for even one employee. Your workers are important to your business, and making sure they are safe is a big part of your success. You can also get coverage for companies and workers on a lease. If your workers get hurt on the job and you don't have Workers' Compensation, you could get in trouble. Not only will you be responsible for the employee's medical bills and lost wages, you can also face fines and even jail time for not having workers' compensation insurance. Not to mention leaving your company vulnerable to lawsuits from the injured employee and their family. 
The internet runs the world these days, and businesses are no exception. At least some part of your business is likely to require the internet to run properly. That can be anything from your payroll, to client information, to order forms, to contracts. If you use the internet for any part of your business you need cyber liability insurance. This insurance protects your business in the event a hacker gets into your system. Hackers will hold your information hostage for ransom or infect your files. This can lead to lawsuits and losing your business entirely. Having cyber liability will cover any damages and protect you from these hackers. 
Being Reactive Instead of Proactive
When bad things happen, insurance helps a lot of small business people. The insurance is bought, thrown in a drawer, and only looked at when a claim needs to be made. This kind of thinking can be more expensive and ignores the valuable risk management tips that can be found when shopping for insurance. Don't let luck get the best of you. Protect your business and your pocket by learning how to avoid the risks your business faces and keep costs down. Your insurance agent and insurance company should be able to help, whether it's coming up with safety processes, setting up security measures, or installing a fire sprinkler system. If you take a few precautions, disaster won't stop your business, and you might even get a discount on your premiums.
Misclassifying Your Employees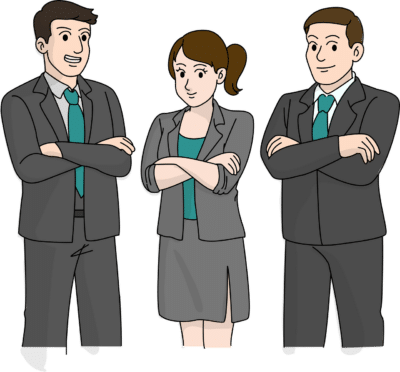 Our insurance experts can point out any mistakes you might be making with how you classify your employees that could cause your insurance rates to go up. For example, if you mistakenly label an employee's job as dangerous, you might be paying too much for insurance because of it. In the same way, if you mistakenly classify a freelancer as an employee, you may spend too much on Workers' Compensation Insurance for that person.
You don't want to pay too much for insurance you don't need. You don't need to cover your home for $2 million if it would only cost you $500,000 to rebuild it from scratch. This is where a reliable insurance agent comes in handy. They can help you choose the right types of policies, amounts of coverage, and deductibles for your business. They can also tell you where you have double coverage and can save money by cutting a certain policy back.
Working With EZ
EZ can help whether you need group health insurance for your workers or commercial insurance to protect your business. Our agents work with the best insurance companies in the country to make sure you and your workers get the best insurance. In fact, we can find you the best coverage for your budget and save you hundreds of dollars a year. Call us at 877-670-3531 for help with group health insurance or 877-670-3538 for help with business insurance plans. Or enter your zip code into the bar below.