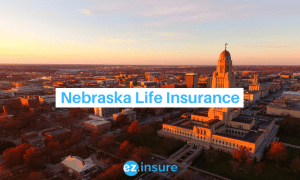 If you're looking for peace of mind knowing your family is financially protected, you should seriously consider purchasing a life insurance policy. But if you're already looking for the right policy for you, you've probably noticed that searching for a policy can be a frustrating process. There is a lot to learn about before purchasing life insurance in Nebraska. Including all of the many types of policies available, as well as the many different regulations that apply to policyholders and insurance companies based in Nebraska. You should learn as much as you can about the life insurance industry in Nebraska before making a purchase. But don't stress: EZ is here to help! First, read our comprehensive guide below, then talk to an EZ agent about finding the perfect policy for you.
Jump To:
How Life Insurance Works in Nebraska
When you buy life insurance, you and your chosen insurance company enter into a legally binding contract. You commit to paying the company the necessary premiums. If you pass away while your policy is active, your chosen beneficiaries will receive a one-time, lump-sum payment (or death benefit) from your insurance company. Your beneficiaries can use the money for whatever they choose. From paying down debt to saving for the future to simply replacing your income.
Life insurance is a great idea for people who have dependents, debts, or other financial responsibilities that must be met even after death. But if you are the sole provider for your family, you absolutely need life insurance. Having a policy will ensure that your family can maintain their current standard of living after your passing. 
Types of Nebraska Life Insurance
There are so many different types of life insurance policies available that almost anyone can find one that suits them. So, you're sure to find one that's right for you. But you'll have to know what's out there, and what you're looking for out of a policy. The first choice you'll have to make is between the two main types of life insurance:
Term life insurance
Permanent life insurance 
When deciding whether to purchase term or permanent life insurance, consider how long you want the coverage to last. As well as how much you are willing to spend and what features you'd like your policy to have.
Because of its low premiums, term life insurance has become the more popular choice. Term life tends to be cheaper than permanent life because this type of policy will not cover you indefinitely. Instead, when you buy term life insurance, you choose how long you want to be covered for. A policy's term is typically 15 years, but it can be as long as 30 years or even as little as one year. 
These policies are also fairly straightforward. Your premium will remain the same throughout the term of your policy. And if you die while the policy is active, your beneficiaries will receive a tax-free death benefit.
There are several types of term life policies available, including:
Level Term Life Insurance
The death benefit as well as the premiums for level term life insurance are fixed at the time of purchase. They will remain unchanged for the duration of the policy. The vast majority of people choose level term policies when purchasing life insurance.
Annual Renewable Term Life Insurance
Annual renewable life insurance is a one-year term life insurance policy. You can renew your policy on an annual basis, but the premiums will increase with each passing year.
Increasing Term Life Insurance
The death benefit of an increasing term life insurance policy will increase over time. Your benefit could, for instance, increase by 5% annually. Unlike with other types of term life, the cost of increasing term life insurance premiums is likely to change over time.
Decreasing Term Life Insurance
The death benefit of decreasing term life insurance decreases over time, but the premium stays the same. This type of policy is often purchased for coverage while repaying a mortgage or other type of loan. As the loan is repaid, the death benefit decreases.
Return-of-Premium Insurance
With return-of-premium (ROP) term life insurance, your premium payments are refunded if you don't die before the policy's expiration date. While many people find the return of premiums appealing, ROP policies are significantly more expensive than other types of term life policies.
Permanent Life Insurance
There are a few significant differences between term life and permanent life insurance. First, with permanent life, your policy will remain in effect for the rest of your life as long as you continue to pay your premiums on time. Next, you'll be given a savings account with your permanent life policy, known as cash value, which will accrue interest. You'll be able to use this cash value to borrow against, or even to pay your premiums. Finally, because of these extra features, the premiums for permanent life policies are typically higher than those of term life policies. 
As with term life policies, there are numerous types of permanent life insurance policies available, including:
Whole life insurance has set premiums and set death benefits. A whole life insurance policy can accumulate cash value in addition to providing a death benefit. This policy's cash value with accrue interest at a predetermined, tax-free rate.
Universal life insurance is a flexible type of policy that offers a lot of options. With this type of policy, you'll be able to modify your death benefit and premium payment amounts. The cost of insurance (COI) and a savings component (also called the cash value) are both included in UL premiums. Eventually, as your cash value accumulates, you will be able to use it to cover your COI.
Indexed Universal Life Insurance
Indexed universal life insurance is another type of permanent life insurance (IUL) that includes a cash value. But the cash value of IUL can increase based on investments in a stock index, which is a predetermined grouping of various stocks, rather than from the set interest rates of a whole life policy, for example. As the cash value of the policy increases, the premium for an IUL can be adjusted in the same way that it is for a universal life policy. It may one day become a no-premium policy, with the cash value covering the entire premium.
Variable Universal Life Insurance
Like the cash value of other permanent life insurance policies, the cash value of a variable universal life (VUL) policy can be invested. But the cash value can be invested using the policy's subaccounts, which are similar to mutual funds. And the premiums of VUL can be changed, just like with conventional universal life insurance. 
Final expense life insurance is a type of whole life insurance that pays a small death benefit, typically between $2,000 and $35,000. This death benefit is intended to cover final expenses such as a burial, cremation, or funeral service. But your beneficiary can spend the death benefit on whatever they want, such as a vacation or property taxes.
These policies are good options for those who are looking for immediate coverage and are worried about qualifying for traditional life insurance. Final expense life insurance is easy to get and convenient, but it's important to note that it can be expensive and pays out less than other types of comparable policies.
Nebraska Life Insurance Laws
When it comes to life insurance, the federal government generally leaves consumer protection and insurance industry regulation up to the individual states. That means that Nebraska has consumer protections in place, including life insurance laws. The insurance industry in Nebraska is primarily governed by Chapter 44 of the Nebraska Revised Statutes, though other consumer protection laws have also been enacted. The insurance industry in Nebraska is regulated by the Nebraska Department of Insurance.
When you purchase life insurance in Nebraska, you'll have the following rights and protections:
Free Look Period
Residents of Nebraska are entitled to a "free look" period of at least 10 days, meaning you'll be able to "test drive" a new insurance policy without risk. You'll be able to get your money back if you decide you no longer want the policy within these 10 days. And if you change your mind, your insurance company will have to promptly return any and all premiums collected without any additional charges.
Grace Period
In Nebraska, you will also be granted a 31-day grace period if you miss a payment. During which your insurance company will not be allowed to cancel your policy. As long as you make up the payment within these 31 days, your policy will remain in effect, and your insurer will have to pay out any claims if you pass away.
Benefit Guarantee
Nebraska law includes some fallback protections in the highly unlikely event that a life insurance provider is unable to pay a claim or becomes insolvent and is unable to pay back a cash value. In such a case, policyholders can seek compensation from the Nebraska Life and Health Insurance Guaranty Association, an affiliated organization. But coverage for loss of cash value is capped at $100,000, while the maximum death benefit is $300,000. Because of this, it's crucial that you only buy life insurance from reliable providers.
Settlement Timelines
Nebraska wants to ensure that all life insurance beneficiaries get their money quickly. State law mandates that insurance companies must pay all claims within 30 days, or begin paying interest on any claim that is still outstanding. Because of this, insurance companies in Nebraska typically settle death claims quickly, usually within a couple of months after receiving the necessary paperwork.
The Cost
The amount you pay for your premiums can be affected by factors such as your age, health, and even your gender. The quickest way to learn about potential costs is to get in touch with one of our EZ agents. Simply answer a few basic questions, and they will find you free quotes that are tailored to you. For an example though, a healthy 32-year-old man who does not smoke could pay anywhere from $18 to $53 per month for a $710,000 20-year policy in Nebraska.
Nebraska Life Insurance Resources
In Nebraska there are several resources in place to help you if you have any problems with your insurer or policy. These resources include:
Nebraska Department of Insurance –

Consumers who want to learn more about state policies governing life insurance, or who have questions or concerns about an issuing company, can contact Nebraska's Department of Insurance. The department, which was established to inform, protect, and advocate for state policyholders, has a consumer services division to handle complaints. It also has a policy locator tool.

Nebraska Life & Health Insurance Guaranty Association

– The Nebraska Life & Health Insurance Guaranty Association is made up of licensed insurers and annuity providers from across the state. The guaranty association is responsible under Nebraska law for servicing policies from member organizations that have been liquidated due to financial ruin. Policyholders and beneficiaries with plans from liquidated insurance providers can contact the association for more information.
FAQs
Does Nebraska require life insurance?
No, you will never be forced to get life insurance. It is always your choice.
What are the best life insurance companies in Nebraska?
There are many good ways to get life insurance in Nebraska. At the top of the list are Progressive, Prudential, Transamerica, Pacific Life, and New York Life.
How much does life insurance cost in Nebraska?
There are many things that can change how much life insurance costs, but here's an example. A healthy 32-year-old woman in Nebraska will pay an average of $29.62 per month for a 20-year term policy that costs $710,000 and lasts for 20 years. On the other hand, a healthy 32-year-old man will pay about $28.68 for the same policy.
EZ Can Help!
At EZ, we get that everyone has unique requirements, priorities, and financial constraints, and we also understand that you want the best for your family without breaking the bank. We also know that trying to find the best policy for you can be frustrating and time-consuming. So, we make every effort to simplify the process of purchasing life insurance. Not only that, but we offer all of our services for free. You will not be charged any additional fees for assistance with anything, from answering basic questions to navigating policy selection to the enrollment process and beyond. Simply enter your zip code in the space provided below or call us at 877-670-3560 to get started.
Looking For A Different Type Of Insurance In Nebraska?