It can be easy to put safety on the back burner when working in a fast-paced environment, but having an unsafe workplace is bad for your employees, and bad for business. No business owner wants to be responsible – financially or otherwise – for the disastrous outcome if an employee gets hurt on the job. Safety might not be on the top of your list, but it is an essential consideration when it comes to protecting your employees and customers, as well as saving  money. You can't necessarily prevent every accident from happening, but there are steps that you can take to minimize the chances of one happening. 
Make Safety Guidelines Accessible
It is not only important to have written safety guidelines in place, but it is also important to make sure that your employees are taking these guidelines on board. If you simply hand employees a book of safety measures, you run the risk that they won't read them and will just sign a form saying that they understand the rules. Take the time to summarize the rules, talk about them with your employees, and post them in different places around your workplace as a reminder.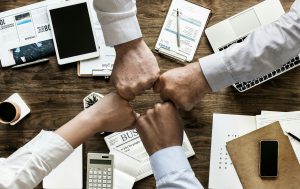 Empower Employees to Report Safety Concerns
You may be the boss, but you can't be everywhere and see everything. You have to rely on your employees to report any potential safety issues, so make sure they know that there won't be any negative consequences if they come to you. Encourage your employees to report any safety concerns, so that you can take action to ensure that your employees are protected.
Safety Training
Having a comprehensive training program for new employees is an important way to reduce workplace injuries. This is especially true for employees who will be lifting heavy things or dealing with hazardous materials. But safety training should not stop there. It should be a continuous and ongoing effort. Your efforts will pay off with reduced workers comp costs, lower medical expenses, and improved productivity.
Hold Practice Drills
Keep everyone prepared by holding safety drills once or twice a year. These drills ensure that everyone understands their roles and what they should do in case of an actual emergency. For reference, if you've ever seen the sitcom The Office, think of the scene in which Dwight surprises the office with a fire drill. Everyone in the office panics, trying to get out by smashing windows, ramming the doors with a copier, crawling through air ducts, and destroying equipment- you do not want your employees to react in that manner during a real emergency!
Post Hazard Signs
Spills or mopping can make a floor slippery, which can lead to an employee or a customer falling and possibly injuring themselves. When a floor is wet, make sure that you're putting down a brightly colored caution sign. If employees are working with hazardous materials such as chemicals, be sure to correctly label these hazards, followed by the dangers if ingested or if they get on the skin, and what to do if any of this occurs.
Provide Employees With Proper Gear
Employees working with hazardous materials need protective gear. Employees dealing directly with food need to be provided with the proper garments to follow health and safety protocols. The last thing you want is a customer to get sick from your food – at best, you'll lose the customer's business and earn a bad reputation; at worst, you could end up with a lawsuit on your hands.
Require Proper Footwear
As much as many of us love to wear sandals in the summertime, it is just not appropriate for the workplace. Depending on your business, shoes with non-slip soles and/or closed-toe shoes might be the best choice for your work environment. Wearing the proper footwear will prevent the risk of a foot injury, such as stubbed or broken toes. If your employees work outside, make sure that they are wearing appropriate footwear for the weather.
A large percentage of accidents are due to slips, trips, and falls, which can be avoided. Try to make sure that your workplace is always kept clean and organized, aisles are clear, and electrical cords are not tangled or in the way of walking.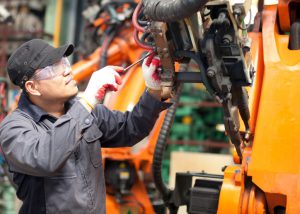 Maintain Your Equipment
Any type of equipment that your business uses will be subject to a lot of wear and tear over time. If your equipment is rarely replaced or maintained, then it will affect how the equipment works. This could end up hurting your employees or your customers. Perform routine maintenance on all equipment so that it is well taken care of, has a longer life-span, and keeps everyone safe.
When you get into a daily routine, you might overlook the small things, such as a coffee spill on the floor, or you might forget to do monthly maintenance on your equipment. These small slip-ups, though, can lead to big consequences. Following the safety tips provided will ensure that you keep everyone safe, and will help to reduce your workers comp costs and avoid lawsuits. 
Sometimes accidents  happen despite your best efforts, so it is important to make sure that you are properly covered with Workers Compensation Insurance, as well as  general liability  or BOP insurance. You can bundle multiple commercial insurance policies while saving money with EZ. To get you the best rates on business insurance plans, our agents will compare all available plans from different carriers around your region, for free. To start saving money, enter your zip code in the bar above, or to speak to one of our licensed agents call 888-615-4893.