Just one single lawsuit can damage your business beyond repair, so there's no doubt that you need liability insurance. But it can be a challenge to figure out what kind of commercial insurance your business needs. Different policies cover different risks and claims; in fact, one of the most common questions from small business owners is "What's the difference between general liability and professional liability insurance?" Both cover different types of risks, and figuring out how each works can be confusing. Understanding how they compare will help you make the best decision for your business. You might even need both!
What Is General Liability Insurance?
General liability insurance is the most basic kind of commercial insurance. It covers costs if a third party accuses your business of causing them physical harm, damaging their property, harming their reputation through slander, or advertising errors that infringe on their copyright. These policies are usually written on an "occurrence" basis, which means that all losses will be covered during the time of the policy period, regardless of when you file the claim. General liability insurance will cover expenses including:
Court costs

Attorney's fees

Settlements

Judgements

Third-party medical bills

Third-party repair bills
Professional liability insurance, which includes errors and omissions, or E&O, insurance, covers legal defense if a third party claims they suffered a financial loss as a result of your negligence. It is written on a "claims made" basis, which means that the damages had to have occurred within the active policy period or they will not be covered. Some of the claims that professional liability insurance covers include:
Negligence

Inaccurate professional advice

Failure to uphold contractual promises

Work that was not completed

Work mistakes or omissions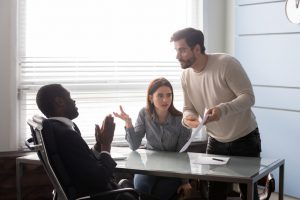 Coverage will typically pay for:
Attorney's fees

Court costs

Investigator's bills

Settlements

Judgements
How They Are Similar
Both protect against business liabilities and cover:
Damage to third parties.

Accidental damage, not intentional damage

Restricted coverage within a specific area; if you go outside that area you will not be covered. 
How They Differ
The main difference between general liability and professional liability insurance is the risks they cover. General liability insurance will cover physical risks, like bodily injuries or property damage caused by your business' daily operations. Professional liability covers financial losses resulting from negligence, errors, or omissions that occur when you provide your services to others.
Who Needs General Liability Insurance?
Every business owner should consider buying a general liability insurance plan to protect their assets. Accidents happen, and when you own a business, these accidents can be quite costly. You should consider general liability insurance if you:
Have customers visiting your location.

Rent a physical location.

Handle other people's property.

Own a home-based business.

Sell, manufacturer, or distribute products.

Advertise your services.
Who Needs Professional Liability Insurance?
Professional liability insurance is important to consider if your business provides professional services and has specialized professional training. Some professionals might even be legally required to obtain this type of insurance. You should consider a professional liability insurance plan if you:
Provide professional or technical services or advice.

Are expected to maintain professional standards.
Some examples of people who should have professional liability insurance are lawyers, consultants, accountants, and technology inspectors.
Which Do You Need?
In many cases, you will need both policies to fully protect your business from an unexpected lawsuit. EZ.Insure provides licensed agents who are highly trained in commercial insurance and can help determine which policy better suits your business, or if you need the coverage of both types. We will compare all plans and find the plan that offers the most coverage at the best price. To get free quotes, simply enter your zip code in the bar above, or to speak with one of our specialized agents, call 888-615-4893.