Healthcare claims for sexually transmitted diseases have reached record levels in the United States. Between 2007 and 2018 alone, private insurance claims for STDs rose by approximately 76%. According to the CDC, three of the most commonly reported diseases that reached all-time high numbers of cases are syphilis, gonorrhea, and chlamydia. Combined cases of these 3 STD's have risen for more than 5 consecutive years, with the CDC estimating that there are approximately 20 million new STD infections each year. In order to protect yourself from the risk of these diseases, get checked regularly, especially if you are sexually active with multiple partners. 
The Prevalence Of STDs
Of the three most common STDs (syphilis, gonorrhea, and chlamydia), chlamydia is now considered the most common STD in the US, with about 1.8 million cases reported last year. Gonorrhea cases came in at a little over half a million, making it the second most common STD in the U.S. Syphilis, however, is the most common STD among those ages 23 to 30. What is alarming is that STDs such as HPV and genital herpes are not reported to the CDC, and therefore the three above-mentioned STDs represent a fraction of the STDs in the U.S.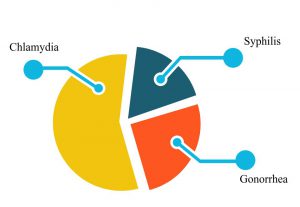 Also alarmingly, new reports show that the rates of reported cases of STDs are highest among adolescents and young adults. According to the CDC, almost half of the 20 million new STD infections every year are among young people between the ages of 15 and 24. Among these cases, chlamydia and gonorrhea were the most common diseases reported last year. 
Why Numbers Continue To Increase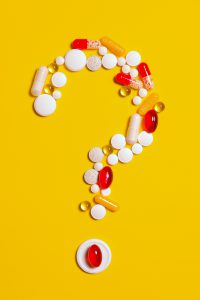 There are multiple reasons why cases of STDs continue to rise within the U.S. The CDC reports that these reasons include poverty, drug use, and a decrease in condom use. Research has found that condom use among sexually active high school students, as well as among men who have sex with other men, has been declining over the years. 
It is also difficult to reduce the spread of STDs because many STDs do not have any symptoms, leaving people unaware that they even have one. If people don't  have any symptoms, then they may not get tested or seek treatment, and can then go on to infect others. 
In addition, STDs are getting more and more difficult to treat. Some STDs – mainly gonorrhea – are becoming increasingly drug resistant. "With gonorrhea in particular, we have a real threat with drug resistance," said Dr. Mark Mulligan, chief of infectious diseases at NYU Langone Health in New York and director of the NYU Langone Vaccine Center. "For most gonorrhea, we're down to a single drug and if we lose that it could potentially become untreatable," he said. "One need is to develop new antimicrobials for resistant organisms like gonorrhea. Another need or another strategy to combat the much broader problem of antimicrobial resistance is using vaccines to try to prevent the infections and therefore reduce the impact of drug resistance."
Newborns Affected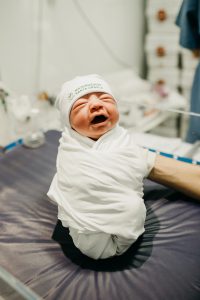 STDs can have serious complications, especially on reproductive health. Syphilis, gonorrhea, and chlamydia can all cause infertility or complications for pregnant women, such as miscarriage. In addition, syphilis can also be passed on to newborns if their mothers are infected and untreated. Newborn syphilis cases have been on the rise due to lack of prenatal care. It's very important that pregnant women be screened for the infection during their first prenatal care visit, so that they can receive antibiotics for it if necessary.
"Cases [of newborn syphilis] could have been prevented if pregnant women had been treated appropriately and in a timely way prior to delivery," said Elizabeth Torrone, a CDC epidemiologist. "We really need to make sure that all pregnant women are screened at their first prenatal care visit, treated appropriately and that their partners are treated so that we prevent reinfection."
What We Need To Do
When it comes to STDs, education is key! We especially need to make an effort to educate the younger generation about using protection and getting tested regularly. Comprehensive sex ed classes should be offered to all students, and parents should be encouraged to speak openly with their children about these risks.
"It's alarming how [STDs are] concentrated among young people, and to me it really speaks to the need for us to up our game in educating young people on not only the basics of sex education but sexuality education and relationship education too," said Rob Stephenson, a professor and director of the Center for Sexuality and Health Disparities at the University of Michigan in Ann Arbor.
Testing is another major way to help battle the spread of STDs. There are organizations that are helping, such as Planned Parenthood, which provides STD testing for free or on a sliding scale  based on income. This epidemic is on the rise, and it is important to get it under control. As a nation, we need to address the issue, fund vaccine trials, fund testing more for people, and educate  young adults on the importance of using protection.