It's no secret that the economy is not at its strongest right now, and that many small businesses are struggling. The approximately 30 million small firms in this country are the backbone of our economy and it's worrying to think that we have lost at least 2% of them in the last half year alone. As a small business owner, how are you feeling about the state of your business? Are you confidently weathering the storm, or are you feeling like you're struggling to keep your head above water? We know times are tough, and we want to see you stay afloat – and keep growing –  so check out the following tips for boosting your business in a slow economy.
1. Focus on Your Existing Customers…
Isn't having a core group of loyal customers great? They know you, they trust you…they pay you! And they're more important to you than ever when the economy slows down, for more reasons than one: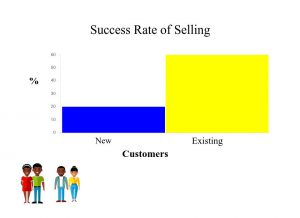 They're cost-effective

: It costs

5 times more

to acquire a new customer than it does to retain an existing one. In addition, the success rate of selling to an existing customer is

60-70%

, while the success rate of selling to a new customer is only

5-20%. 
They are already willing to buy from you:

This means that you can offer them related products or services to gain additional revenue during a downturn. You might want to expand the services you offer (and give your existing customers a chance to try your new service for free!) or partner with another, complementary business. For example, a dog grooming service could consider expanding their services to include flea and tick treatment, or might consider partnering with a local vet or pet food shop. Or, a company that sells nutritional products might start offering meal planning services, or partner with a gym and get commissions on sending personal training clients their way.

They can help bring in new customers:

Now is not the time to be shy about asking for referrals! And this can be a mutually beneficial situation: offer your existing customers rewards, such as discounts or a bonus item, if they refer someone who becomes a customer. Use low-cost ways to alert your existing customers about your referral program: maintain an email subscription list, send fun postcards, or even make personal phone calls. 
2. …But Don't Forget to Diversify!
Again, one of your biggest strengths in tough times is going to be your existing customers. But that doesn't mean you shouldn't try to diversify your customer base. Don't put all your eggs in one basket! Remember that no single customer should account for more than 10-15% of your sales, and no small group of customers should account for more than 40-50% of your sales. 
To expand your customer base, look to some of the strategies above, such as employing a referral program or expanding into new markets or partnering with other businesses. You should also step up your marketing efforts, which we will look at next. 
3. Examine Your Marketing Strategy
Keeping your name out there is extremely important – and sometimes difficult – in a slow economy, so now is not the time to stop marketing your business. It may be tempting to completely cut marketing out of your budget, but that is not advisable, or even necessary. You just need to be a little more creative about how you use your marketing dollars. Some strategies to consider include: 

Negotiate with advertisers –

Advertisers are probably struggling along with you in tough times, so don't be afraid to initiate negotiations with them. They might agree to give you a discount just to keep your business.
Trim your ads –

If you pay for print advertising, then reduce the size of your ads – a well-worded, punchy, short ad can be just as effective, if not more so, than a long ad. Similarly, if you pay for video advertising, try to make your videos shorter, or consider posting them only to

social media

for the time being.

Use free marketing techniques –

These days, there is no shortage of ways to market your business for free. Expanding your presence on

social media

can do wonders for name recognition. Look into using a

viral loop strategy

in which you entice existing customers into referring more and more of their network to your business, or examine the idea of a content marketing funnel, in which you create content that "funnels" potential customers towards making a purchase. Find any way you can to create a buzz around your business!
4. Stay Positive!
During tough times, it's easy to get lost in the weeds of day-to-day operations, and lose a little of your enthusiasm. But don't forget to take a step back and remind yourself of your business' mission, values, strengths, and goals. Be sure to remind your employees of all of this, as well, and keep them focused on what you're all working towards. Make sure they understand your company's strategy and that they feel good about proactively promoting the business whenever they can. Try to foster the right attitude in your workplace, so that productivity doesn't take a dive. 
5. Reduce Costs, Improve Your Cashflow
When it comes down to it, you can't gain new customers, satisfy existing ones, or grow your business if you don't maintain or improve your cashflow. It's all a big cycle: you need to pay your bills and operating expenses if you want to keep the customers coming in, and you need customers to continue paying your expenses and so on. Make sure you have a solid plan to keep your cashflow strong, so you'll be ready if and when the economy slows down. When tough times do hit, you should find ways to reduce costs so that your cashflow doesn't take a hit, as well. Try examining your:

Utilities –

You could be able to reduce your electric and water bills by switching to

renewable sources

. 
Internet and phone plans –

Companies that provide these services are

always

in competition and are often willing to give you a great rate if you play them against each other.
Use of office supplies – Do you really need to print everything? Consider going as paperless as possible. 
"Luxuries" –

Now might be the time to cut down on, or eliminate completely, extras like expensed meals or trips. 
Just because the economy isn't growing, doesn't mean that you can't keep your business growing! You just need to stay on course and keep working at what you're best at: winning and satisfying your customers, marketing yourself, sticking to your goals, and always managing your cashflow. Don't forget to keep a positive attitude and know that you have it in you to weather the storm.