It's the sexiest time of year again! When the temperature drops down to peak cuddling levels, and Valentine's Day rolls around, it just seems like sex is in the air for everyone – and we mean everyone (unless sex isn't your thing, of course). When we say "everyone," we mean that sex is 100% not reserved for the young, whatever the media seems to show us – and you know what? We've always said that sex just gets better with age, and now we're bringing receipts. After all, it's 2022, and it's about time that surveys started checking up on what you older adults out there think about sex in your 50s, 60s, 70s,  and even 80s and 90s – so let's find out! 
If It Feels Good, Do It!
First things first: should seniors be getting down to business? Are you ever, you know, too old for that kind of stuff? We're here to tell you the answers to those questions are a very big yes to the first, and no to the second! In fact, sex can have some serious benefits, both mental and physical, as you age. 
Before we get onto the surveys that prove how sexy senior sex can be, let's take a quick look at some research that proves how good doing the deed can actually be for you. Science Direct looked at the sex lives of 2,577 men and 3,195 women aged 50 and older and had some very interesting findings in terms of physical health as people age, like: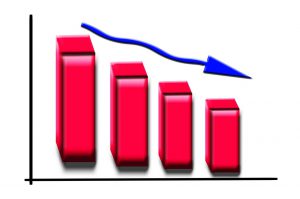 Men who reported a decline in sexual desire were more likely to go on to develop cancer or other chronic illnesses that limited their daily activities

Men and women who reported a decrease in the frequency of sexual activities were also more likely to rate their level of health worse than others

Sex releases endorphins (the "feel-good hormone"), which it turns out don't just generate a happy feeling that impacts your mental health. Higher endorphin levels are also associated with greater activation of the immune system, which may reduce the risk of cancer and heart disease.

Sex, as a form of moderate-level physical activity, burns close to four calories a minute!
The same research also found that an active sex life was great for the mental state of older adults: it found that older adults enjoy life more when they are sexually active. The researchers also found that those who "experience a decline in sexual activity report poorer well-being than those who maintain their levels of sexual desire, activity and function in later life. We also found that men who are sexually active in later life continue to have better cognitive performance compared to those who don't."
Those endorphins are mighty powerful! They can make you enjoy life more, maybe because of both the fun physical stuff you're getting down to, as well as the connections you're maintaining by getting close to a partner. Again according to Science Direct: "Research suggests that people who engage in sexual intercourse with their partner are also likely to share a closer relationship. And closeness to one's partner is linked with better mental health."
So Who IS Doing It? 
So we've proven that, if sex is something you're interested in, it's also in your best interest to do it – so who among your peers is still getting busy? Turns out, a lot of them! Let's take a look at a few surveys/studies looking at the sex lives of older adults, and let's also pause for a moment to say what good news it is that all sorts of researchers, from the more social to the more scientific, are finally talking about this subject. It's important that we recognize, celebrate, and support every aspect of a full, happy life as we age. 
But now, without further ado, some findings:
A survey by Lumen, a dating app for people over 50
This survey talked to 2,000 sexually active people ages 50 to 80 in the United States and found that:
People between ages 50 and 80 have sex twice a month on average.

27% said they have sex at least once a month if not more.

14% said they would have sex on the first date, and 30% were up for it within the first three dates.

22% of people reported they have become more adventurous in their sex life as they've gotten older, 8% of people have become much more adventurous, and 22% said their sex lives are as adventurous as when they were younger.

On average, respondents reported that a romp often lasts 24 minutes. 

51% of people said they planned on having sex for as long as they could, and 14% of those surveyed said they don't think they'll ever stop having sex.
A study from the University of Michigan
The next study we're going to look at is part of the university's National Poll on Healthy Aging, and was based on online answers from 1,000 people aged 65-80. This study found that: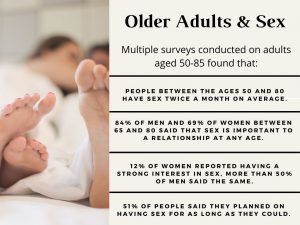 84% of men and 69% of women between 65 and 80 said that sex is important to a relationship at any age.

Just over half of men and just under a third of women reported that they were sexually active. This seems to align with a 2007 study in

The New England Journal of Medicine

that found that around 75% of 3,000 men and women between the ages of 57 and 85 were sexually active.

While 12% of women reported having a strong interest in sex, more than 50% of men said the same.

More women were "extremely or very" happy with their sex life compared with men.

Only a quarter of those aged between 76 and 80 reported being sexually active, compared with 46% of those aged 65-70.
Researchers at the University of Chicago
Dr. Stacy Tessler Lindau and Natalia Gavrilova of the University of Chicago looked at studies assembling information on 6,037 patients, ranging in age from 25 to 85, and reported the following about people between the ages of 75 and 85 in the British Medical Journal:
38.9% of men were sexually active, versus 16.8% of women

70.8% of active men reported good quality sex lives, versus 50.9% of active women

41.2% of men were interested in sex, versus 11.4% of women
While it looks like there's a bit of a drop in sexual activity once people start getting up in years, those numbers are still pretty eye-opening! The only issue seems to be a disparity between men and women, but that's something that we have looked at before – and could write lots more on! For now, though, we'll say it's hopeful that, according to Tessler Lindau, "At age 55, most folks can expect 10 to 15 more years of sexually active life."
A survey by UK website onbuy.com
After speaking to 2,381 over 60s, onbuy.com found that:
1 in 10 (11%) over 60s were interested in

embarking on new sexual relationships

in 2020.

6% of over 60s saw an increase in their sex drive as they aged.

3 in 5 (63%) admitted to thinking about sex on a weekly basis, and 21% to thinking about it daily. Not only that, but 73% of women thought about sex 1-2 times a day, while 69% of men did the same, with 23% of men thinking about it 3-5 times a day, and 17% of women doing the same.

When asked about kinks, over 60s were most interested in BDSM, with more than half (63%) interested in giving it a try.
Sex Is Like a Fine Wine…
Turns out sex does still sizzle into your sixties and beyond, and lots of you are out there living your best lives! And why? Surely it's not just for the extra cardio, right? Well, there are lots of people who argue that sex actually gets better with age. In fact, the Lumen survey from above also found that:
When asked why their sex life has improved, 57% of people tied fewer inhibitions to more enjoyable sex.

18% of women said they simply have a higher libido now that they're older.

24% of people credited having a better sex life to the fact that they have more free time now.
The consensus seems to be that having more time to make sex good, having fewer of the  hang-ups that younger people suffer from (like issues with body image), and maybe most importantly of all, finally knowing what you like (and hopefully expressing it) make sex in your 50s, 60s, 70s, and beyond a whole new ballgame. 
After all, according to Dr. Lori Beth Bisbey, a psychologist and intimacy counselor, "Most of us in our twenties had no idea what we liked anyhow. If you really talk to people, there was a lot of fumbling, and often our younger selves were just doing what we thought we were supposed to like. By the time you get to your fifties, relationships can be a lot deeper and a lot more real."
The upshot is: if sex makes you feel good, do it! And if you need a little help between the sheets, remember to take your time, pleasure yourself whenever the mood arises to keep yourself (and your body) in good practice, keep the lines of communication open with your partner, and never shy away from talking to your doctor if you need to. Let's get the subject of senior sex out in the open! In the meantime, enjoy, and let us know how you feel about the above findings!