Lush, if you have ever had the pleasure of shopping at this store, then consider yourself lucky. This company prides itself on their fresh handmade cosmetics. But does it work? We took the liberty of testing out some of their products. We asked some people around the office of issues they are currently dealing with. Next was a trip to our local Lush, where we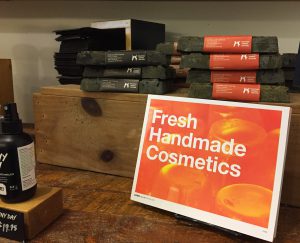 asked an associate for solutions to the issues. They handed us products, and everyone at the office gave it a trial run, and here are their reviews:
This product was given to 2 of our coworkers as a calming sleep aid aromatherapy. The instructions were to use before bed, wet jelly, lather, and rinse with warm water. There were mixed reviews. One coworker despised the scent, describing it as "petroleum" and that it did not help at all. They wouldn't recommend it and would not purchase. While the other coworker claimed she only used it one night but slept throughout the night well. She claims it smells nice and she would definitely recommend it.
This product was recommended as a solution to insomnia. Unfortunately our coworker was not satisfied with this product. He said he did not notice any changes in his sleep, and that while it smells good, it feels like sunscreen lotion. He would not recommend the product or buy it again.
This product was offered as a solution to anxiety, and aromatherapy. Our coworker LOVED this bar. She stated that just picking up the bar reminded her to "breathe." It feels like a hardened cream without being overly greasy, and smells like "a garden of blooming lavender." She would recommend it and definitely buy it again!
This product was given as a solution to frizzy hair. She was advised to use it as a hair styling product. This was a highly impressionable product! Our coworker was really impressed with the hair spritz, especially in the summer and humidity. She claims it works when used straightening or going naturally curly, both offered the same amazing results. It feels good and light. While the scent may be a bit much at first, (Personal preference of not liking citrus like smells too much) once it dries, it is not as strong. 10/10, this product is recommended, and she would purchase again for when she straightens her hair.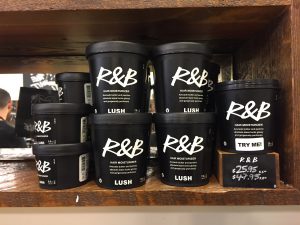 This product is supposed to be a solution to cowlicks. Use it as a hair styling product, recommended to try using it on damp hair. When asked about the performance of this product, our coworker stated "it is better than mouse or gel, but doesn't hold as well as wax." They stated they like the way it feels, very light without heavy weigh down. There is a shine the product gives off after using it, which he did not seem to like. It smells amazing, and with a somewhat satisfaction, he would recommend it to anyone with fine to medium hair. But, it is not enough to tame his "wire-like hair."
The Dandruff Balm
Used as a solution to dandruff, our co worker stated it helped with the itchiness and flakes, however left their hair feeling greasy and weighed it down. The smell is okay, but they stated they would not necessarily recommend it or buy it again.
These tablets offer you an opportunity to freshen your mouth when you're on the go. You have to put a tablet in your mouth, take a sip of water, swish it all around like mouthwash, and then spit it out. Another alternative would be to drop the tab in a cup of water and then use it as mouthwash. Our coworker did not seem to like the idea of this product because "you can't really use it anywhere."
This product was suggested as solution to psoriasis. Our co worker stated it helped with their skin problems, offering relief and feels awesome. Even though it was a bit too feminine for our coworker, he said he would recommend it, and definitely buy it again. "This stuff is the real deal for a skin lotion."
Last but not least, some body washes!
Lush offers many products for many different hair and body issues. If you are interested in trying it out, we say give it a go. The ingredients are all handmade, and meant to help with whatever problem you are looking to resolve. Their prices are relatively reasonable.